29th Annual ALS Memorial Golf Tournament Raises $123,000
The 2019 John C. Daly and James W. Michaels ALS Memorial Open Golf Tournament raised $123,000 to benefit St. Peter's Hospital ALS Regional Center. The event, which celebrated its 29th year, took place on June 26 at Van Patten Golf Club & Vista Restaurant in Clifton Park.
The event saw 250 golfers participate, with 60 volunteers on hand, and more than 50 hole and corporate sponsors offering their support. Over the history of the tournament, more than $2.2 million has been raised to benefit the center. All of the proceeds from this tournament help the ALS Center to meet the needs of patients and families living with this devastating disease.
Since 1988, St. Peter's Hospital ALS Regional Center has been providing people with Amyotrophic Lateral Sclerosis (ALS), sometimes referred to as Lou Gehrig's disease, and their families with a comprehensive, specialized blend of services and resources. The center provides both a medical and an emotional system of support to help maintain quality of life, advocacy and hope throughout the course of the disease.
T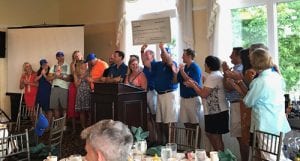 hank you to everyone who donated to and supported the event!