LiveSmart: Ice Bucket Challenge Continues to Drive Awareness, Treatment of ALS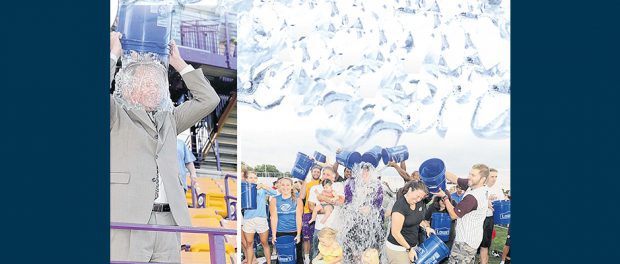 Six years ago, the Ice Bucket Challenge soaked the nation, raising awareness of amyotrophic lateral sclerosis, commonly known as ALS.
ALS is a rare, fatal disease that attacks the body's nervous system and rapidly destroys the nerve cells that allow humans to eat, speak, and move properly. Approximately 35,000 Americans suffer from ALS at any one time. There is currently no cure and little treatment.
The Ice Bucket Challenge is credited, in part, for supporting and driving research for a potentially breakthrough medication that may slow the progression of ALS. The treatment targets two cellular structures damaged by the disease: the mitochondria and the endoplasmic reticulum. During a multicenter, randomized, double-blind study, the medication resulted in a 25 percent better functional outcome among 137 participants.
The study's lead author, Dr. Sabrina Paganoni, a neuromuscular specialist at Massachusetts General Hospital's Sean M. Healey & AMG Center for ALS, said that, if approved, the new drug would be just one part of a cocktail of medications that would help keep ALS at bay. She credited the Ice Bucket Challenge for getting her study and others going.
Inspired by an ALS patient in Boston, the 2014 event began with individuals challenging one another on social media to dump buckets of ice-filled water on their heads. It quickly went viral, with mass events held across the globe, including in the Capital Region.
The St. Peter's Hospital Foundation helped to sponsor the largest Ice Bucket Challenge in upstate New York. Held on Bob Ford Field at the University at Albany, the event drew hundreds of participants. With donations from Lowes, Stewarts Shops, University at Albany, and Albany Broadcasting, the Foundation was able to raise more than $100,000. The funds not only supported ALS research, but also supported care for local patients with the disease.
That's why fundraising efforts, like the Ice Bucket Challenge, are so important. Now in its 19th year, Walk to Strike Out ALS is one such event.
Walk to Strike Out ALS is being held Saturday, Oct. 17, at 11 a.m. Due to COVID-19 concerns, instead of gathering at Saratoga State Park, participants are being asked to walk safely around their neighborhood or on a favorite hiking path. The goal is to raise $125,000, all of which will go to benefit the St. Peter's ALS Regional Center.
St. Peter's ALS Regional Center serves 17 counties in northeastern New York and is the region's only medical and counseling service devoted exclusively to the care of patients with ALS.
Located at 19 Warehouse Row in Albany, the ALS Regional Center Lewis Golub MDA/ALS Clinic offers medical and emotional support, rehabilitation therapy, consultation, counseling, education, and advocacy to ALS patients and their families. It also provides home visits, as well as guidance and support via telephone, to patients who are too ill or disabled to visit the center.
As the Ice Bucket Challenge demonstrated, every dollar raised can help make a real difference in the fight against ALS. If you would like to help support the development of future treatments and hopefully one day a cure, consider participating in the Walk to Strike Out ALS. To sign up, or for more information, head to https://www.walktostrikeoutals.org/.