Albany Associates in Cardiology Earns Echocardiography Reaccreditation by IAC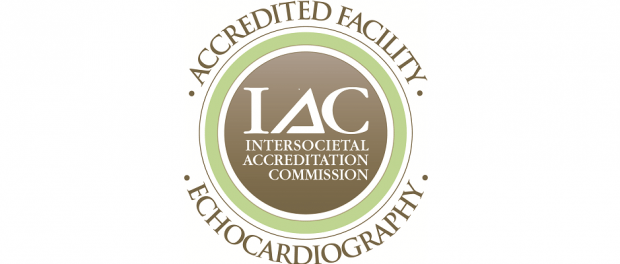 Albany Associates in Cardiology, a practice of St. Peter's Health Partners Medical Associates, has been granted a three-year term of accreditation in echocardiography by the Intersocietal Accreditation Commission (IAC). The reaccreditation in the area of adult transthoracic was awarded to Albany Associates in Cardiology offices in Clifton Park, Glens Falls, and Troy. The St. Peter's Cardiac Imaging Center Ultrasound, operated by Albany Associates in Cardiology, was reaccredited in the areas of adult transthoracic as well as adult stress.
The accreditation by the IAC is the fourth for Albany Associates in Cardiology (AAC). It means AAC has undergone an intensive application and review process and found to be compliant with the published IAC standards, thus demonstrating a commitment to quality patient care in echocardiography.
"By regularly renewing this accreditation, our patients can take comfort in knowing that we hold our echocardiography department to the highest standards and regulations set forth by the IAC," said Pam Williams, president of St. Peter's Health Partners Medical Associates. "Our team of physicians and sonographers are committed to providing patients with state-of-the art testing to accurately diagnose their heart condition, which is an important step in developing their plan of care."
Echocardiography is used to assess different areas of the heart and can detect heart disease or signs of serious cardiovascular conditions. Many factors contribute to an accurate diagnosis based on echocardiograph—the training and experience of the sonographer performing the procedure, the type of equipment used, the background and knowledge of the interpreting physician, and quality assurance measures taken by each facility.
Heart disease is the leading cause of death in the United States. According to the American Heart Association, more than 2,150 Americans die each day from cardiovascular disease, which amounts to about one every 40 seconds.
About Albany Associates in Cardiology
With more than two dozen physicians and advanced practitioners treating patients across four hospitals, Albany Associates in Cardiology offers a vast range of services, including cardiology, echocardiography, vascular ultrasound, vascular clinics, nuclear cardiology, interventional cardiology at St. Peter's Hospital and Samaritan Hospital, and electrophysiology.
Instrumental in establishing an interventional program at St. Peter's Hospital, Albany Associates in Cardiology also provides medical directorship of St. Peter's Hospital Cardiac Rehabilitation and Wellness Program.
All Albany Associates in Cardiology physicians are board-certified in cardiology.