First Recipients of Siena-Eddy Nursing Scholarships Announced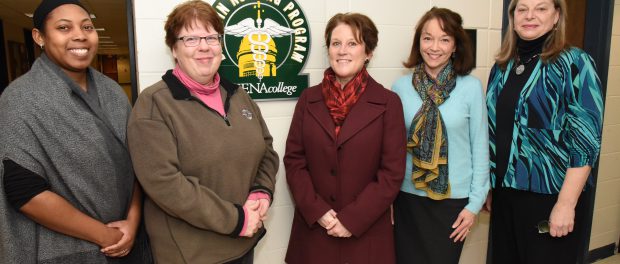 Siena College and The Eddy, the Continuing Care Division of St. Peter's Health Partners (SPHP), announce the first recipients of the joint full-tuition scholarship established last fall to encourage registered nurses who are pursuing a bachelor's degree in nursing and are interested in the increasingly important field of population health.
Tiffany Mayben of Albany and Nancy Watrous of Stuyvesant are both recipients of The Margaret Krause and Siena College Nursing Scholarship, which is funded through a unique partnership between The Eddy and Siena's new Baldwin Nursing Program.
Mayben currently works at the Eddy Visiting Nurse Association (Eddy VNA) in Troy; Watrous is employed at the Eddy VNA in Catskill. They're beginning their nursing studies at Siena this month.
While the initial scholarship was intended to grant one award, the scholarship selection committee members felt strongly that both nurses should receive the inaugural scholarship.
"We were very impressed with the evenly matched applications of both of these nurses, and the committee opted to select both candidates," said Lisa. M. Flack, DNS, director of Siena's Baldwin Nursing Program. "We wish them all the best as they continue their nursing education."
As recipients of the scholarship, Maben and Watrous will be required to continue working full-time for three years after graduation at Eddy VNA or another Eddy organization, such as Sunnyview Rehabilitation Hospital, The Community Hospice, or one of The Eddy nursing homes, which provide long-term care and short-term rehabilitation.
"Our Eddy nurses work more independently, often delivering care right in a patient's own home, and therefore the broader range of clinical skills a BSN provides is important," said Kim Baker, CEO of The Eddy and vice president of Continuing Care for SPHP.  "In addition, we find that RNs with their nursing baccalaureate are well prepared to lead teams, share what they've learned with others and move up into management positions."
The scholarship program is named, in part, after Margaret Krause, the longtime president of The Eddy Board of Directors.
All RNs are encouraged to apply in the future for this scholarship that will be awarded annually. Qualified applicants from St. Peter's Health Partners, the region's largest health system, will be given first consideration, especially those who work for The Eddy.  Applications can be found at www.siena.edu/nursing. The application due date for the next scholarship is March 6, 2017.