Mary Vitale Named 2015 Nurse of Excellence at St. Peter's Hospital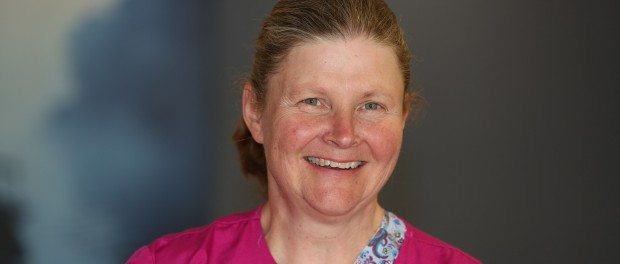 Nurse Mary Vitale has been named the recipient of the St. Peter's Hospital 2015 Nurse of Excellence award. Nominated by her colleagues, Vitale, BSN, RN-3, C-EFM, CLC, MNN, of Women's and Children's Services, was recognized for recent accomplishments in her 30-year nursing career.
Among colleagues and nursing leaders, Vitale's reputation is one of integrity, compassion, trustworthiness, and respect. "She is committed to fostering a caring, nurturing and healthy work environment for all staff, new and those with seniority," reads the letter nominating her for the award. "She not only follows policies but also participates in the creation of them and encourages others to do the same. She is transparent; readily bringing forth quality issues in a manner which focuses on opportunities for growth and not penalty."
Vitale, who works in the postpartum and newborn nursery unit of St. Peter's Hospital Women's and Children's Services, said she was humbled by the award.
"I feel very blessed to be able to work in maternity. It's something I've always loved," she said. "I feel that this was an honor for our entire division. One person doesn't do it all, it takes a team."
Vitale was nominated for the 2015 Nurse of Excellence award by 3 Pavilion staff and Operations Manager JoAnn Lionarons, BS, RNC-OB, C-EFM, CLC.
In their nomination, they lauded Vitale for her "clinical expertise in labor and delivery, postpartum, antepartum, and newborn care." Her 22 years of experience in maternity care include national certifications in lactation counseling and electronic fetal monitoring, and have made her a valuable resource to her nursing colleagues. Often placed in a team leadership role, Vitale was hailed for placing patient care at the center of her decision-making, as well as possessing a mature and professional approach to addressing the most complex of situations.
Vitale's extensive leadership record in Women's and Children's Services include her role as the unit's patient experience champion and nursing lead in the St. Peter's Hospital Purposeful Hourly Rounding initiative. She is also chair of the Women's and Children's Services Scheduling Council. In the latter role she was credited with developing a staff self-scheduling program, as well as revising a scheduling policy and holiday assignment program. According to Lionarons, these changes have positively impacted the work environment through improved care delivery and increased staff retention.
The St. Peter's Hospital Nurse of Excellence award is provided by the hospital's Nursing Governance Council. Nominees must meet several criteria, including demonstrating excellence in the areas of compassion, community building, courage to create and lead, clinical practice, and commitment to the mission and values of St. Peter's Health Partners.