St. Peter's Health Partners Breaks Ground for New Heinrich Medicus Pavilion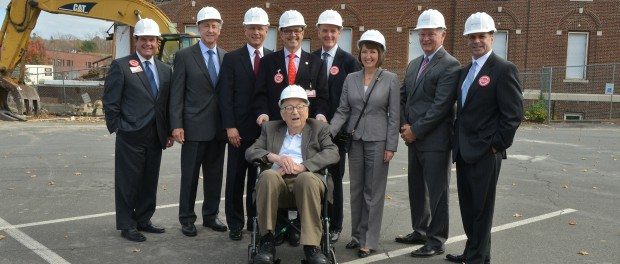 St. Peter's Health Partners (SPHP) broke ground today for the construction of a new, five-story patient pavilion on the Samaritan Hospital campus.
The pavilion is the centerpiece of SPHP's $99 million Troy Master Facilities Plan (MFP), a strategic, multi-phased plan aimed at transforming health care in Troy, Rensselaer County, and the surrounding communities.
Upon completion in 2017, the pavilion will be named the Heinrich Medicus Pavilion in honor of the 96-year-old Troy resident and former Rensselaer Polytechnic Institute professor who in 2013, pledged $10 million to the project – the largest individual gift ever bestowed upon a health care institution in the history of Troy and Rensselaer County.
The new pavilion will feature an expanded emergency department with nearly double the current patient capacity, intensive care units with large private rooms, improved progressive care units, and medical and surgical units designed to improve staff efficiency, and private rooms that provide staff unobstructed observation from nursing stations and corridors.
"We have marked a year full of extraordinary achievements, and we have celebrated many historic moments since we first announced our $99 million Troy MFP," said Norman E. Dascher, Jr., chief executive officer of Samaritan and St. Mary's hospitals, and vice president of Acute Care Troy, SPHP. "Today, we are about to begin yet another exciting chapter as we break ground for what will be the crowning achievement, the centerpiece of our transformative project – a new, five-story patient pavilion."
"Our Troy MFP was a significant capital investment, and a historic project for the citizens of Troy, Rensselaer County, and the surrounding communities," said Dr. James K. Reed, president and chief executive officer of SPHP. "It is a symbol of our commitment to this city and the regional economy, and it will have a meaningful impact on those who work in and visit the institution and live in the surrounding neighborhoods. That is why we are infinitely grateful for the generosity, faith, and support that we have received from Heinrich to turn our vision into reality."
"I am thrilled that this day is finally here and that I am still here," said Medicus. "I'm very excited to be part of this moment, and today is a very important day for me. I wish to be here in two years when the pavilion is complete but at least I am part of the start today.
"When asked to support this project I was thrilled for the new pavilion to carry my name," said Medicus, "and I am proud to be able to help Troy and give back to a place that serves many people in need of health care. I have never regretted for a moment to help Samaritan and Troy, a place where I have lived for more than half my life."
"This is a defining moment for the history of health care in Troy, and the surrounding communities we serve," said Harold 'Chip' Gordon, Esq., chair of the Board of Trustees for SPHP. "Our whole Troy MFP project has been designed and developed with our patients in mind – to help us better serve the citizens of our region, to provide the highest quality care, and to offer access to state-of-the-art services you need close to home. Thank you to all those who have supported us throughout this exciting journey. The outlook is bright for a 'Healthy Future, Healthy Troy.'"
In June, SPHP officials opened the first major component of the Troy MFP – the new St. Mary's Cancer Treatment Center. Triple the size of its former location at Samaritan Hospital, the new cancer center at St. Mary's is specially designed for and by cancer patients, allowing for many expanded programs as well as new services and amenities.
In August, SPHP cut the ribbon on its new $10 million, 570-car parking garage on the Samaritan Hospital campus. The four-story structure offers convenient, free parking for patients, visitors, and staff. In September, SPHP celebrated the opening of the Samaritan Hospital School of Nursing at its new, expanded location on the St. Mary's campus. The new state-of-the-art educational facility offers enhanced design features, such as contemporary classrooms, and expanded clinical and computers labs. The targeted completion date for the entire Troy MFP project is 2017.
"The MFP represents a bold vision for the future of health care, and we have made incredible strides toward making that vision a reality," said Dascher. "With each forward-thinking step, each groundbreaking, each expansion, we move closer to transforming and improving health care for everyone in our community."