New Fourth Floor Medical/Surgical Unit at Samaritan Hospital to Open June 26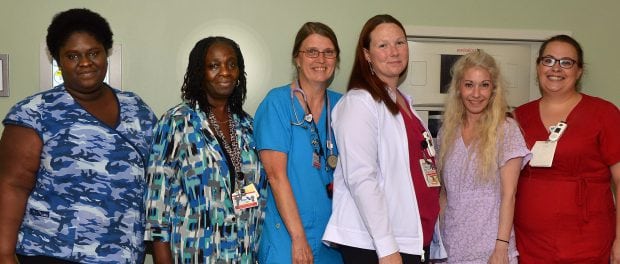 St. Peter's Health Partners (SPHP) on June 19 held a dedication and open house to celebrate the new fourth floor medical/surgical unit at Samaritan Hospital.
For patients, the new state-of-the-art unit features larger patient rooms, which were designed to provide a more comfortable and healing experience. For physicians, nurses, and technicians, the new unit's advanced equipment and thoughtful design offers an ideal setting in which to provide the highest quality and most compassionate patient-centered care.
Development of the new med/surg unit was informed by the input and feedback of providers and nurses who work in the unit. The new unit is set to begin accepting patients on June 26.
"As beautiful as this new facility is, the most special features of the unit are the people who work here, and the high level of care they provide for our patients," said Norman Dascher Jr., president of Samaritan Hospital and St. Mary's Hospital. "We are blessed to have such talented and dedicated nurses and staff on the 4th Floor, who can accomplish so much, and stay cool in a high-volume and sometimes high-pressure situations."
Rooms in the new med/surg unit, which are all fully private with private bathrooms and showers, measure 270 square-feet. This is significantly larger than the previous med-surg unit's semi-private 207-square-foot rooms. Other patient amenities in the new unit include a visitor waiting area and a family consultation room.
"Our team is excited to have this new, spacious, state-of-the-art unit to help us better care for our patients," said Jessica Mattice, RN, nurse manager of the fourth floor at Samaritan Hospital. "We would like to thank everyone who played a role in developing, building, and supporting this new unit."
The new med/surg unit is located in Samaritan Hospital's new five-story Heinrich Medicus Pavilion, the centerpiece of SPHP's $99 million Troy Master Facilities Plan (MFP). Over the next several months, the pavilion will open other new units, including private medical/surgical inpatient rooms.
A strategic redevelopment project, the MFP was designed to transform health care in Troy, Rensselaer County, and the surrounding communities. The comprehensive plan includes the construction, renovation, and modernization of facilities in Troy, and the transition of Samaritan to the sole provider of inpatient acute care hospital services in Troy, as well as the transition of St. Mary's to an outpatient campus.
Many of the plan's major components have been completed, including: a new 570-car parking garage at the Samaritan campus; the relocation and opening of the Samaritan Hospital School of Nursing at St. Mary's; the new St. Mary's Hospital Hildegard Medicus Cancer Center; the new Women's Imaging Center at St. Mary's Hospital; and the new Samaritan Hospital Emergency Department, Intensive Care Unit, and Progressive Care Unit.
The Heinrich Medicus Pavilion, for which SPHP broke ground in November 2015, is expected to be completed this summer.