Troy Cancer Centers Dedicated to Memory of Hildegard Medicus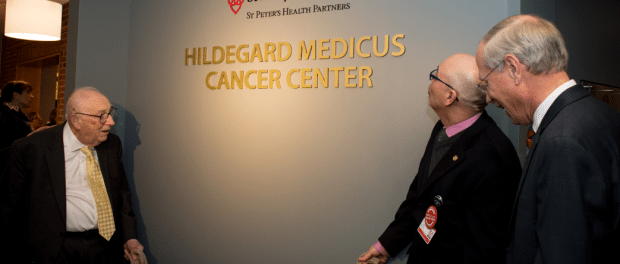 St. Peter's Health Partners (SPHP), in appreciation of the generosity of 97-year-old philanthropist Heinrich Medicus – who previously donated $10 million to its Troy Master Facilities Plan (MFP), and has announced an additional $1.5 million gift to advance cancer services – today renamed its Troy cancer centers at Samaritan and St. Mary's hospitals in memory of his late wife, Hildegard Medicus.
The St. Mary's Cancer Treatment Center has been renamed the St. Mary's Hospital Hildegard Medicus Cancer Center, and Samaritan Radiation Oncology has been renamed the Samaritan Hospital Hildegard Medicus Cancer Center. New donor walls for the centers were unveiled simultaneously at the two campuses during a special ceremony held at St. Mary's. A video connection allowed guests at St. Mary's to witness the unveiling at Samaritan Hospital as well.
A native of Zurich, Switzerland, Medicus worked as a physics professor at Rensselaer Polytechnic Institute for 33 years, and has made Troy his home since 1955. He and Hildegard married in 1961 and had enjoyed nearly five decades together when Hildegard was diagnosed with kidney cancer in 2006. She died in 2008 at the age of 80.
After Hildegard's passing, Medicus decided to include in his legacy an area health care institution, and in March 2013, he donated $10 million to SPHP for the $99.9 million Troy MFP, just months after the plan was announced in November 2012. The donation constituted the largest individual gift ever bestowed upon a health care institution in the history of Troy and Rensselaer County.
"We are grateful to Heinrich for the remarkable contributions he has made," said James K. Reed, MD, president and chief executive officer, SPHP. "He has shown a magnanimous generosity in what is also a moving tribute that memorializes his late wife, Hildegard, and which helps us in the fight against the disease that took her life. He is someone who not only gives generously with his checks, but with his heart. We are infinitely grateful for all that he has done for this community."
"Words cannot express our gratitude for the unprecedented support and commitment Heinrich has shown to our communities," said Norman Dascher, Jr., chief executive officer of Samaritan and St. Mary's hospitals, and vice president of Acute Care Troy, SPHP. "The gifts he has made will not only transform health care in our area for generations to come, but ensure accessibility to state-of-the-art cancer services for patients who need care here, close to home. We thank him from the bottom of our hearts for helping us fulfill our mission and preserving our commitment of care in Troy."
The Troy MFP, a strategic redevelopment project, was designed to transform health care in Troy, Rensselaer County and the surrounding communities. The comprehensive plan includes the construction, renovation and modernization of inpatient facilities on the Samaritan campus, and the relocation, expansion and enhancement of outpatient services at St. Mary's.
Many of the plan's major components have been completed, including a new 570-car parking garage at the Samaritan campus; the relocation and opening of the Samaritan Hospital School of Nursing at St. Mary's; and the accelerated transition of Samaritan as the sole provider of inpatient acute care hospital services in Troy, and St. Mary's as an advanced outpatient campus.
The last major component, a new five-story inpatient pavilion at the Samaritan campus, is targeted for completion in 2017. It will be named the Heinrich Medicus Pavilion in appreciation of his remarkable gift. The patient pavilion will include a new expanded emergency department with nearly double the patient capacity; an intensive care unit with large, private patient rooms; a progressive care unit offering an optimum healing environment for patients; and medical/surgical units designed to improve staff efficiency, with private rooms that still provide staff unobstructed observation from nursing stations and corridors.
The $25 million capital campaign for the Troy MFP, "Transforming Health Care in Troy, The Campaign for Samaritan and St. Mary's Hospitals," has raised more than $22 million to date.