Samaritan Hospital Sets 9th Annual "Walk a Mile in Her Shoes" Fundraiser Against Sexual Assault & Gender Crimes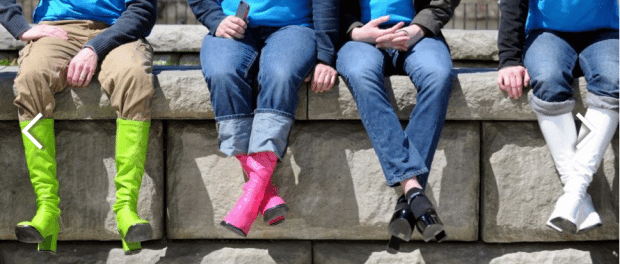 The Sexual Assault & Crime Victims Assistance Program for Rensselaer County at Samaritan Hospital, in observance of April as National Sexual Assault Awareness Month, will host its 9th annual "Walk a Mile in Her Shoes®," a community march against rape and sexual violence, Saturday, Apr. 30, 11 a.m. – 1 p.m. (registration/check-in at 11 a.m., walk at noon), at Riverfront Park, Troy.
Dan Bazile, reporter and anchor of Weekend Today, WNYT NewsChannel 13, will serve as the emcee, along with WYJB 95.5 FM personalities Bill Fox and Chad O'Hara. Albany Broadcasting and B-95.5 FM are the media sponsors.
The first-of-its-kind community march invites the public – especially challenging men to show support for victims by literally walking a mile in women's high-heeled shoes. Walkers will start from Riverfront Park, proceed down River St., up Congress St., down 3rd, and then back to Riverfront Park.
"It's said that you can't really understand another person's experience until you've 'walked a mile in their shoes,'" said Lindsey Crusan, director of the Sexual Assault & Crime Victims Assistance Program at Samaritan Hospital. "The idea is that by symbolically walking in another's shoes, we can then begin to understand how victims feel."
"These crimes affect more than just the victim, they impact families, friends and communities," Crusan added. "Often, we find the men – fathers, sons, brothers – really want to be a part of that healing process. This is an opportunity for them to do that, to step up and show their support, and to be a courageous partner with women in making the world a safer place."
According to the Centers for Disease Control and Prevention, an estimated 19.3 percent of women — or more than 23 million – have been raped during their lifetimes, and an estimated 43.9 percent of women have been victims of sexual violence other than rape during their lifetimes.
Furthermore, every two minutes, another American is sexually assaulted, and it's estimated that fewer than 85 percent of sexual assaults are ever reported to police.
Individuals or teams of walkers may participate with sponsors and pledges. Registration is $20 and includes a T-shirt, food, and more. Prizes will be awarded to the Top Team Fundraiser and Top Individual Fundraiser.
An estimated 500 people turn out yearly for the event. Proceeds benefit direct services to victims, such as counseling, legal advocacy, and education and outreach efforts. For more information or to participate, please call the Sexual Assault and Crime Victims Assistance Program at Samaritan Hospital at (518) 271-3639.
"Walk a Mile in Her Shoes" is an international trademarked men's march held annually across the country and overseas to stop rape, sexual assault and gender violence. The event was started in 2001 by Frank Baird, a marriage and family therapist in California who worked at a violence trauma center and who wanted opportunities where men can contribute to efforts to end sexual violence. Since then, Baird has set up a non-profit corporation to help unite communities and raise money for local rape crisis centers.
The Sexual Assault & Crime Victims Assistance Program for Rensselaer County at Samaritan Hospital is the only agency in Rensselaer County to provide specialized services, including education, prevention and crisis care 24 hours a day, seven days a week to sexual assault survivors and crime victims, and their families and friends. All services are free and confidential. The program also offers a 24-hour hotline for individuals in need, (518) 271-3257.