SPHP and WellNow Urgent Care Open Dedicated COVID Test Center in Glenville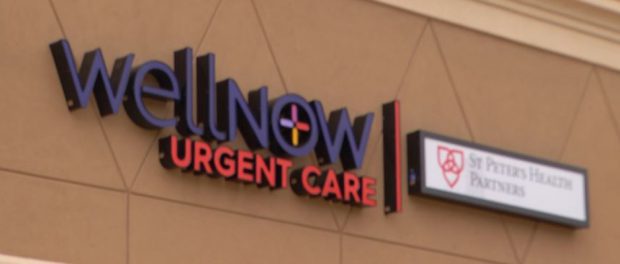 St. Peter's Health Partners and its urgent care partner, WellNow Urgent Care, have opened the doors to their newest location in Schenectady County — their 13th location in the Capital Region.
The new center in Glenville has opened as a dedicated COVID-19 PCR testing center for asymptomatic patients. Located at 233 Saratoga Road, Schenectady, NY 12302, the new testing facility will be open seven days a week from 8 a.m. to 8 p.m. Appointments are strongly encouraged and can be scheduled online. Patients seeking treatment for injuries and illnesses, as well as those experiencing symptoms of COVID-19, should visit their nearest full-service WellNow Urgent Care center. The new center in Glenville joins a growing list of WellNow Urgent Care locations in the Capital Region that are temporarily serving as dedicated COVID-19 testing centers, including Latham, North Greenbush and Rotterdam.
With the opening of the new center, WellNow and SPHP have created the most comprehensive, easily-accessed urgent care system in the Capital Region. Other nearby centers include Albany, Clifton Park, Glens Falls, Gloversville, Hudson, Latham, North Greenbush, Niskayuna, Rensselaer, Rotterdam, Saratoga Springs and Troy. The Glenville location will begin providing other urgent care services as soon as possible.
"Together with our partner, St. Peter's Health Partners, we've continued to adapt throughout the COVID-19 pandemic to ensure we are delivering the high-quality care and services that are most needed in our communities," said John Radford, M.D., President at WellNow Urgent Care. "We're proud to be a reliable destination for same and next-day COVID-19 PCR testing, and we look forward to introducing a full range of urgent care services at our Glenville center this Fall."
"As COVID-19 continues to present new challenges, we remain committed, along with our partner WellNow Urgent Care, to providing convenient solutions that will support the health of our community," said James K. Reed, President and CEO of St. Peter's Health Partners. "We're pleased to offer dedicated COVID-19 PCR testing at our new Glenville center, while continuing to meet the needs of urgent care patients at our full-service centers throughout the Capital Region."
COVID-19 PCR testing is available at all WellNow locations; however, asymptomatic patients are strongly encouraged to visit one of WellNow's dedicated testing sites. Asymptomatic patients include individuals who may have been exposed to COVID-19 but are not currently exhibiting common symptoms such as fever, cough, shortness of breath, or loss of taste or smell. Patients without symptoms who require PCR results for work, school or other purposes are also considered asymptomatic. Patients with symptoms of COVID-19, patients who may be at high risk for COVID-19 due to age or other health factors, and those who require screening before a surgical procedure should visit a full-service WellNow Urgent Care location.
COVID-19 PCR tests collected at WellNow centers in New York, by their specified testing times, are likely to return results on the same day. All other PCR results will be returned the next day. Patients can visit WellNow.com/PCR-results to view testing times to receive same-day results. Additional information about COVID-19 testing at WellNow Urgent Care, including testing cost and insurance coverage, can be found at WellNow.com/COVID-19/.
WellNow Urgent Care's full-service locations continue to provide timely service for non-life-threatening ailments such as sprains, burns, colds and allergies while also providing on-site X-rays, lab testing and physicals. Urgent care services are provided on a walk-in basis, or patients may also visit WellNow.com to check in online or schedule a visit. Patients can also speak with a WellNow provider virtually, 24 hours a day, seven days a week, using the company's Virtual Care platform. WellNow accepts most insurance, including Medicare, Medicaid, Fidelis and Veterans Affairs TriWest.