SPHP and WellNow Urgent Care Open New Center in Rotterdam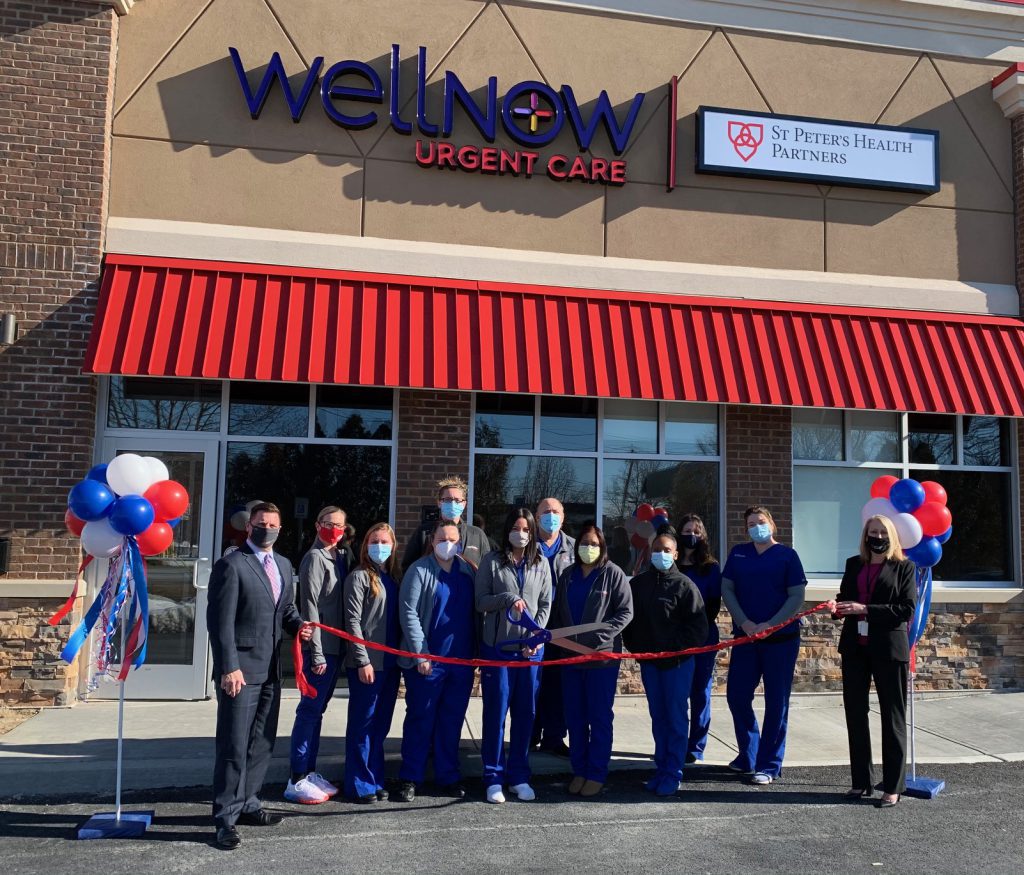 St. Peter's Health Partners and WellNow Urgent Care have opened the doors to their newest center in Rotterdam. Located at 1708 Altamont Ave., Schenectady, NY 12303, the center is open seven days a week from 8 a.m. to 8 p.m. to provide COVID-19 testing, as well as timely treatment for non-life-threatening injuries and illnesses with no appointment needed.
"Together with our partner St. Peter's Health Partners, we're thrilled to be opening our ninth center in the region," said John Radford, M.D., WellNow Urgent Care President. "We look forward to helping patients in Rotterdam and surrounding communities get the care they need so they can get back to their lives faster.
"We're proud to continue supporting the health of the community as a go-to resource for timely and convenient urgent care services, as well as COVID-19 testing," said James K. Reed, M.D., President and CEO of St. Peter's Health Partners.  "Along with our partner WellNow Urgent Care, we're pleased to welcome patients to the Rotterdam center."
The new center in Rotterdam provides timely service for ailments such as sprains, burns, colds and allergies while also providing on-site X-rays, lab testing and physicals. COVID-19 testing, including rapid testing and antibody testing, is also offered, with patients encouraged to book an appointment online to be seen. Urgent care services are treated on a walk-in basis, but patients may also visit WellNow.com to check in online or view up-to-date wait times. A full list of services can be found at WellNow.com/services, and additional information about COVID-19, including testing cost and insurance coverage, can be found at WellNow.com/COVID-19.
Once checked in, patients can opt to receive a reminder text message letting them know when it's time to show up for their visit, giving them the option of waiting at home, in their car, or at another location of their choice. Patients can also connect with a WellNow provider 24 hours a day, seven days a week, using the company's telehealth platform.
WellNow Urgent Care also offers Capital Region employers a wide range of occupational medicine services. From DOT/19A physicals and Workers' Compensation assistance to respirator fit exams and audiometry, businesses can partner with WellNow to develop a custom occupational medicine program fit for their industry.
The opening of the Rotterdam center marks WellNow's ninth location in the Capital Region through its joint venture with St. Peter's Health Partners. Other nearby centers include Saratoga Springs, Troy, Albany, Clifton Park, Glens Falls, Hudson, Latham and Niskayuna. A full list of WellNow facilities can be found at WellNow.com/locations.