SPHP Colleagues Promote Heart Health, Provide Free Screenings at Albany Housing Authority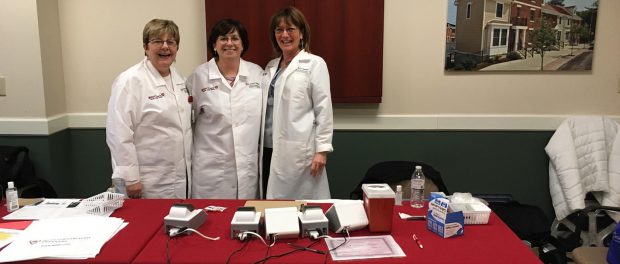 Thank you to Kathy Ristau, Denise King, and Kelly Balwin, members of the Cardiac and Vascular Services team at St. Peter's Health Partners (SPHP), for their great work at last week's "Healthy You" screening event at the Albany Housing Authority!
SPHP was proud to partner with MVP Health Care and many other local organizations to provide free health screenings for residents of the Albany Housing Authority.
The next Healthy You event will take place from 2-6 p.m. on Wednesday, February 8, at the Albany Housing Authority. Free screenings and tests will be offered for blood pressure, cholesterol, kidney health, diabetes, and asthma.
There will also be opportunities to receive flu shots, CPR training, tobacco cessation materials, and other important health information.
Along with SPHP and MVP, partnering on the Healthy You event are the American Cancer Society, Equinox, American Diabetes Association, American Heart Association, Northeast Kidney Foundation, the Cancer Services Program of Albany and Rensselaer Counties, Albany College of Pharmacy and Health Sciences, and SEFCU.
Please click here for more information about the Healthy You screening event.