SPHP Hospitals to Shine Light on Women's Heart Health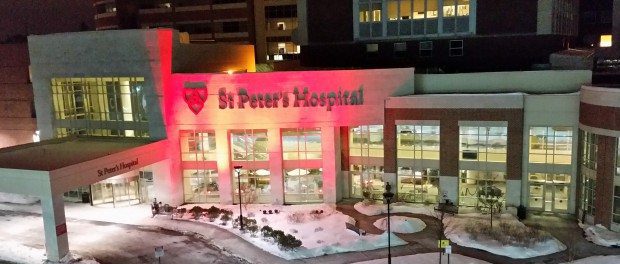 Starting this evening, St. Peter's, Samaritan, St. Mary's, and Albany Memorial hospitals will be among 32 Capital Region buildings to be illuminated in red, in support of American Heart Month. Taking place on the eve of the American Heart Association's "National Wear Red Day," this effort aims to shine a light on women's heart health.
According to the association, heart disease and stroke cause 1 in 3 deaths among women each year, killing approximately one woman every 80 seconds. Despite these risks, however, many women don't realize that it's their no. 1 health threat and that 80 percent of cardiac and stroke events may be prevented with education and action.
The association started its "Go Red for Women" campaign 12 years ago to support educational programs to increase women's awareness and critical research to discover scientific knowledge about cardiovascular health.
St. Peter's Health Partners is a proud supporter of the American Heart Association and its "Go Red for Women" campaign.