SPHP Hosts Two Volumes of Heritage Edition of The Saint John's Bible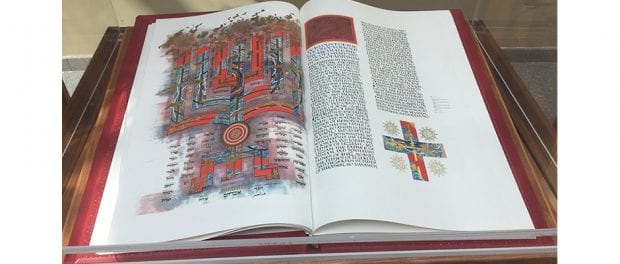 Two Heritage Edition volumes of The Saint John's Bible, the first hand-scribed bible in 500 years, are currently on display at St. Peter's Hospital. It is part of a year-long celebration at St. Peter's Health Partners – "Year with The Saint John's Bible."
The books are a limited edition, museum-quality work of art and biblical scholarship – one of only 299 sets in the world. They were commissioned by the monks at St. John's Abbey in Collegeville, MN, in 1998 and completed in 2011. A team of scribes and artists overseen by renowned calligrapher Donald Jackson in Wales worked for more than a decade to complete this masterpiece; no project of its kind has been undertaken since the advent of the printing press in the 15th century.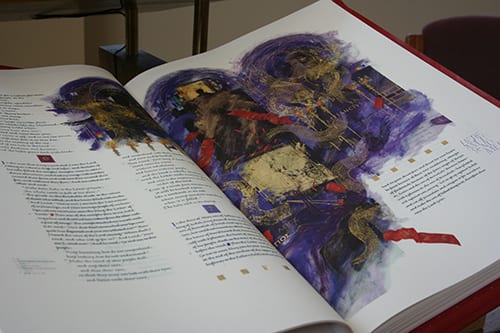 The volumes are currently on display in two handmade wooden cabinets, one on St. Peter's Hospital's Main Street and the other outside of the St. Peter's Hospital Chapel. The cabinets and tables used in the display were built by Michael Wolken, a carpenter at St. Peter's Hospital.
At St. Peter's, the presence of the Bible, with its beautiful illuminations and calligraphy, will serve to enhance the healing environment in our common spaces. St. Peter's has also prepared several illuminations on special paper that can be taken into a patient's or resident's room, providing inspiration in our patient care spaces and residences.
St. Peter's expects to welcome visitors from all over the region to view the two volumes, Prophets and Gospel and Acts. The volumes are of particular interest to artists, scholars, students, theologians and all who have an interest in experiencing a transformative work of artistic and spiritual discovery.
One of the volumes will be traveling throughout the Capital Region over the course of the year, visiting numerous SPHP facilities, as well as other community sites and faith communities.
St. Peter's Health Partners (SPHP) received the two volumes thanks to a special initiative overseen by Trinity Health, the parent organization of SPHP.
For information, please call St. Peter's Hospital's Spiritual Care Department at 518-525-1602 or visit SPHP's The Saint John's Bible webpage at http://www.sphp.com/sjb.