SPHP Teams with Proctors and Palace Theatre on New Lactation Lounges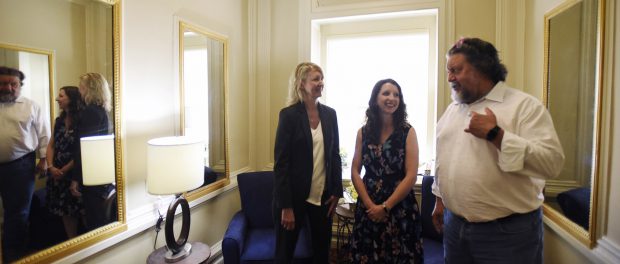 New Lactation Lounges at Proctors in Schenectady and the Palace Theatre in Albany offer nursing mothers a private, comfortable space to breastfeed or pump.
Sponsored and made possible by St. Peter's Health Partners (SPHP), the Lactation Lounges will be available during business hours for employees and during show hours for patrons.
"This is the perfect use of a lovely, private space in our building," said Proctors CEO Philip Morris, "and we're glad to help our employees and patrons with growing families."
"This is a new feature for the Palace, and we are excited about offering this wonderful benefit to our staff and patrons," said Palace Theatre Executive Director Holly Brown. "I am grateful to St. Peter's Health Partners, as this would not have been possible without their generous support."
Long-term studies of breastfeeding show it contributes to a lifetime of good health for babies. It also provides many positive health benefits for moms and gives them time to relax and bond with their baby.
"St. Peter's Health Partners is proud to sponsor the new Lactation Lounges at Proctors and the Palace Theatre," said SPHP Vice President of Mission Services and Spiritual Care Katherine Derosa. "By encouraging and supporting breastfeeding mothers, this program will make a positive impact on the long-term health of our community."
At Proctors, the Lactation Lounge is located in a former vanity area in the distinctive 1926 Ladies Lounge, a sitting room on the theatre's second floor mezzanine. For patrons, a Proctors house manager will provide entrance.
At the Palace Theatre, the Lactation Lounge is located near the Women's Room on the mezzanine level of the theatre.
In addition to being sponsored by SPHP, the new Lactation Lounges received support from a New York State Department of Health grant, "Pediatric Obesity Prevention: Creating Breastfeeding Friendly Communities." The grant is administered by SPHP Community Health Programs.
Babies who are breastfed are known to have lower rates of infectious disease and be at a lower risk for Sudden Infant Death Syndrome (SIDS). Additionally, babies who are breastfed have been shown to have a decreased risk for certain chronic diseases, including asthma, diabetes, and obesity. Several studies have indicated that breastfed children may have significantly lower risk of childhood obesity, compared to those who were not breastfed.
Because of these benefits, many organizations including the American Academy of Pediatrics, American Congress of Obstetricians and Gynecologists, World Health Organization, and the U.S. Department of Health and Human Services recommend exclusive breastfeeding during a baby's first six months of life, and continuing breastfeeding until a baby turns one year old.
For more information on the benefits of breastfeeding, click here.