St. Peter's Health Partners Teams with City of Albany, Food Pantries, KeyBank, and CDTA on Food Drive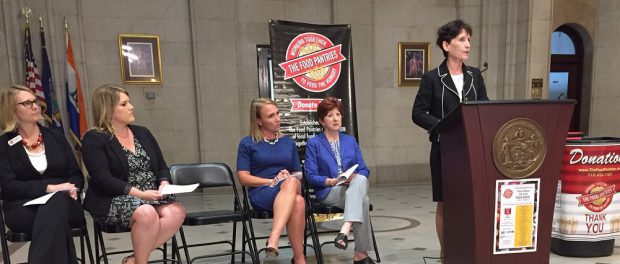 4th annual collaborative City-Wide effort announced to fight local hunger; healthy, nonperishable food items will be accepted 7/13 – 8/3 at numerous locations throughout Albany
In recognition of continued and growing community need, The City of Albany, The Food Pantries for the Capital District, KeyBank, St. Peter's Health Partners, and CDTA announce a collaborative City-Wide food drive beginning July 13 and running through August 3.
The Food Pantries conducted their first food drive in conjunction with the City of Albany in 1980 and have since worked together in a public/private partnership to combat hunger. This initiative continues that partnership. Through food drives like this, The Food Pantries are able to help distribute more than a million meals to families in the City of Albany annually.
"As we enjoy this beautiful Capital Region summer, it is incumbent upon us to remember that 1 in 10 of our fellow community members struggle with food insecurity," said Virginia Golden, Chief Executive Officer of St. Peter's and Albany Memorial Hospitals. "This initiative speaks directly to our organization's mission of being a compassionate and transforming healing presence in our community. Last year we raised 2,000 pounds of food, and this year we aim to raise 2,500 pounds. We are proud to once again partner with the City of Albany and others to collect food for those in need and, in turn, help ensure no child in our area goes hungry this summer."
Healthy nonperishable food items can be dropped off at the following Albany locations:
Albany City Hall
24 Eagle Street (Monday-Friday 8:30am-5pm)
Albany Heritage Area Visitors Center
25 Quackenbush Square
(M-F 9am-4pm, Sat 10am-3pm, Sun 11am-3pm)
Albany Fire Department
26 Broad Street
Albany Police Departments
165 Henry Johnson Boulevard
36 Western Avenue
126 Arch Street
Alive at Five Concert Series
7/13, 7/20, 7/27, 8/3
Arbor Hill Community Center
47 N. Lark St
Cathedral of the Immaculate Conception
125 Eagle Street
Downtown Business Improvement District (BID)
21 Lodge St, Floor 1 (M-F 8:30am-5pm)
Honest Weight Food Co-op
100 Watervliet Avenue (Open 7 days a week from 8am-10pm)
KeyBank
All 9 City of Albany locations  (M-F 9am-4pm) 
66 South Pearl Street
New Scotland Ave, 561 New Scotland Ave
University Heights, 62 New Scotland Ave
Westgate, 911 Central Ave
Central Plaza, 1900 Central Ave,
Corporate Woods, 19 Corporate Woods Blvd
Empire State Plaza, 112 Grand Concourse,
Wolf Road, 95 Wolf Road,
University, 1196 Western Ave
St. Francis of Assisi
391 Delaware Avenue (M-F 9am-3pm)
St. Peter's Health Partners
5 locations
St. Peter's Hospital, 315 S Manning Blvd
Albany Memorial Hospital, 600 Northern Blvd
St. Peter's Regional ALS Center, 19 Warehouse Row
Samaritan Hospital, 2215 Burdett Ave, Troy
St. Mary's Hospital, 1300 Massachusetts Ave, Troy
The Central Avenue Business Improvement District
176 Central Avenue (M-F 8am-4pm)
The Food Pantries for the Capital District
32 Essex Street (M-F 8am-4pm)
Trinity Alliance of the Capital Region
15 Trinity Place
Cash donations will also be accepted on The Food Pantries' website, at their office, and Alive at Five concert events on July 13th, 20th, 27th, and August 3rd. One dollar can provide up to 6.25 pounds of food to the hungry in Albany. $10 can provide food for up to 52 meals! Additionally, a food drive continues through the rest of the Alive at Five concert series.
 "When school gets out each summer, the need to feed the children in our community increases significantly. Therefore, each year we partner with The Food Pantries to help meet that need," said Albany Mayor Kathy Sheehan. "Albany is rich with generous residents who are willing to donate food to hungry children. I urge you to join this coalition of people and drop off your donation at more than20 locations. A small gesture on your part can make a big difference to a hungry family."
"The timing of this City-Wide food drive couldn't be better. Schools are closed for the summer, and that means additional burden on our hungry neighbors to provide meals for their children," said Natasha Pernicka, Executive Director for The Food Pantries for the Capital District. "During the summer months, there were more than 33,000 visits by children to our 61 member food pantries." As our coalition of food pantries is currently maintaining the highest service levels of our 38 year history, we are thankful for this partnership with the City of Albany, CDTA, KeyBank, St. Peter's Health Partners, and the community to work together to keep our local food pantries' shelves stocked during this great time of need."   
 "A common characteristic of strong communities is the willingness of its citizens to support and care for neighbors through unfortunate times," said Ruth Mahoney, president, Capital Region Market, KeyBank. "This is why we are proud to join The Food Pantries, the City of Albany, St. Peter's Health Partners, and CDTA in an effort to fight hunger by collecting healthy, non-perishable food. Not only do we hope to feed the hungry, but we also hope to provide them with the resources they need to realize a brighter future."
"CDTA is proud to help support The Food Pantries for the Capital District with its annual summer food drive," said David M. Stackrow, CDTA Board Chairman. "CDTA is more than just a bus company, we are integrally part of the communities we serve, and that means helping our neighbors where we can in good times and challenging times. If we can help just one family this summer, not wonder where their next meal is coming from, then we've done something to make a positive difference."
Click here for more information on this year's City of Albany City-Wide Food Drive.