St. Peter's Hospital Ranked #1 in Capital Region; Sunnyview Ranked Among Best in the Nation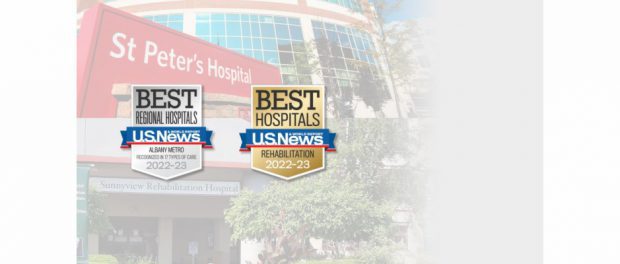 Two of St. Peter's Health Partners' (SPHP) hospitals – St. Peter's Hospital and Sunnyview Rehabilitation Hospital – have been recognized as a Best Hospital for 2022-23 by U.S. News & World Report. St. Peter's Hospital was ranked #1 in the Capital Region and Sunnyview Rehabilitation Hospital was ranked #29 in the nation.
For the 2022-23 rankings and ratings, U.S. News evaluated nearly 5,000 hospitals nationwide on key indicators of patient care. In order for a hospital to qualify as a Best Regional Hospital, it must be high performing in at least seven procedures/conditions or have a numerical ranking in at least one of the 15 medical specialties and at least three procedures and have at least three more high performing procedures/conditions than below average procedures/conditions.
For SPHP, those rankings revealed:
St. Peter's Hospital was ranked 1st in the Capital Region and 10th among more than 200 hospitals in New York state, up from 12th in 2021. It was also recognized as high performing in 17 specialties and procedures (the areas of geriatrics; pulmonary; and GI/Gastro and common procedure areas of aortic valve; heart bypass surgery; congestive heart failure; colon cancer surgery; chronic obstructive pulmonary disease; diabetes; heart attack; hip replacement; kidney failure; knee replacement; lung cancer surgery; pneumonia; stroke; and TAVR). Earlier this year, St. Peter's Hospital was also named a Best Hospital for Maternity for uncomplicated pregnancy (scheduled early deliveries; C-section rates in low-risk women; newborn complications; rate of exclusive breast milk feeding; and option for vaginal births after cesarean or VBAC).
Sunnyview Rehabilitation Hospital was nationally ranked at 29th on U.S. World's "Best Rehab Hospitals" list, up significantly from its ranking last year at 46th. It was also the only rehabilitation hospital to make the list in the entire Northeast, outside of the metropolitan centers of New York City, Boston, Philadelphia, and Pittsburgh.
This marks the ninth year in a row that St. Peter's Hospital has been named among the best hospitals in New York state. It was the second time that Sunnyview Rehabilitation Hospital made the list, which is normally dominated by hospitals in larger metropolitan areas such as New York, Boston, Chicago, and Houston.
"We are tremendously proud to receive this recognition for a ninth time from U.S. News and World Report," said Michael Finegan, executive vice president, Hospital Operations – NY, Trinity Health. "The COVID-19 pandemic continues to strain health care systems in new ways it seems, every day. I have been humbled to see our incredible team overcome these hurdles to continue providing the outstanding highly skilled, compassionate care we have long been known for, to our patients."
"Sunnyview is truly a special place. The expertise, dedication, and hard work and compassionate care provided by our entire team set us apart, and I could
not be prouder," said Kim Baker, MA, CCC-SLP, senior vice president, hospital operations for Sunnyview. "Our exceptional scores in patient safety; the volume of stroke, traumatic brain injury, and traumatic spinal cord injury patients we help on their healing journey every day; and the depth and breadth of advanced technologies we offer – all of it leads to better patient care and better patient outcomes. And to now be ranked 29th in the nation, up from 46th last year, is a stunning accomplishment. I offer our amazing team my utmost gratitude and thanks."
The annual Best Hospitals rankings and ratings, now in their 33rd year, are designed to assist patients and their doctors in making informed decisions about where to receive quality care for challenging health conditions or elective procedures.
About St. Peter's Hospital
St. Peter's Hospital, an affiliate of St. Peter's Health Partners, is the largest Catholic acute care community hospital in northeastern New York state. Located in Albany, New York, the hospital was founded in 1869 by the Religious Sisters of Mercy. St. Peter's offers a comprehensive range of inpatient and outpatient services and diverse outreach programs in the areas of women's and children's services, neonatal intensive care, rehabilitation, surgery, ambulatory care, outpatient medical imaging, and care for the elderly. For more information, please visit www.sphp.com.
About Sunnyview Rehabilitation Hospital
Founded in 1928, Sunnyview Rehabilitation Hospital is a 115-bed comprehensive rehabilitation hospital. Located in Schenectady, NY, it is one of only four such hospitals in the state dedicated to providing high quality services from acute rehabilitation to education about disabilities, to re-entry into the community. Every year, more than 15,000 individuals come to Sunnyview from across the greater Capital Region and beyond. Sunnyview serves patients spanning more than 38 counties of New York State and numerous other states as far as California.
About St. Peter's Health Partners
With 11,000 employees in more than 170 locations, St. Peter's Health Partners is one of the Capital Region's largest and most comprehensive not-for-profit integrated health care networks, and provides high-quality, compassionate, and sophisticated care to thousands of people every day. St. Peter's Health Partners is a member of Trinity Health, one of the nation's largest Catholic health systems. For more information, please visit www.SPHP.com.
ABOUT U.S. NEWS & WORLD REPORT
U.S. News & World Report is the global leader in quality rankings that empower citizens, consumers, business leaders and policy officials to make better, more informed decisions about important issues affecting their lives. A multifaceted digital media company with Education, Health, Money, Travel, Cars, News and 360 Reviews platforms, U.S. News provides rankings, independent reporting, data journalism, consumer advice and U.S. News Live events. More than 40 million people visit USNews.com each month for research and guidance. Founded in 1933, U.S. News is headquartered in Washington, D.C.