St. Peter's Hospital Recognized for High-Quality Maternity Care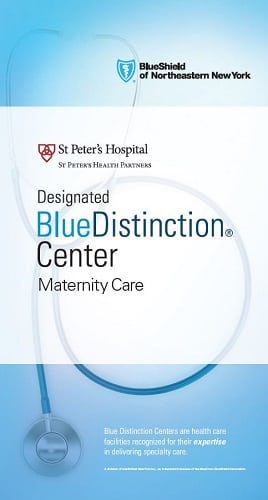 St. Peter's Hospital, an affiliate of St. Peter's Health Partners, has been designated a Blue Distinction Center for Maternity Care by BlueShield of Northeastern New York, as part of the Blue Distinction Specialty Care program.
Blue Distinction Centers are nationally designated hospitals that show expertise in delivering improved patient safety and better health outcomes, based on objective measures developed with input from the medical community.
"St. Peter's Hospital is proud to be recognized by BlueShield of Northeastern New York as a Blue Distinction Center for Maternity Care," said Virginia Golden, president of St. Peter's Hospital and Albany Memorial Hospital. "Thank you and congratulations to everyone on the Women's and Children's Services team at St. Peter's Hospital. This recognition would not have been possible without their dedication, clinical excellence, and commitment to providing the highest quality of care for expecting moms, new moms, and the newest members of the Capital Region community."
Blue Distinction
Nearly 4 million babies are born every year in the United States, making childbirth the most common cause of hospitalization, and cesarean sections the most common operating room procedures, according to National Center for Health Statistics and the Agency for Healthcare Research and Quality.
Blue Cross and Blue Shield (BCBS) companies across the nation have recognized more than 1,000 hospitals as Blue Distinction Centers for Maternity Care. Hospitals recognized with this designation are assessed using a combination of quality information supplied by hospitals and cost measures derived from BCBS companies' medical claims.
Since 2006, the Blue Distinction Specialty Care program has helped patients find quality specialty care in the areas of bariatric surgery, cancer care, cardiac care, maternity care, knee and hip replacements, spine surgery, and transplants, while encouraging health care professionals to improve the care they deliver. Research shows that, compared to other hospitals, those designated as Blue Distinction Centers demonstrate better quality and improved outcomes for patients.
St. Peter's Hospital Birthing Center
In 2017, approximately 2,950 babies were delivered at St. Peter's Hospital. The hospital's Birthing Center, where moms labor and deliver, combines the ambiance of a home-like setting with experienced staff and sophisticated technology to promote a safe birth. The Birthing Center features nine birthing rooms with private showers, two hydrotherapy tubs, and three operating rooms for cesarean deliveries.
To ensure the safety of moms and newborns, the Birthing Center offers complete obstetric anesthesia services 24 hours a day. The hospital's neonatal intensive care unit (NICU), a Level III facility, is staffed 24 hours a day with board-certified neonatologists, neonatal nurse practitioners, and registered nurses certified in neonatal nursing.
 For more information about delivering a baby at St. Peter's Hospital, please visit: http://www.sphcs.org/WomensHealth
Blue Distinction
The Blue Cross Blue Shield Association is a national federation of 36 independent, community-based, and locally operated Blue Cross and Blue Shield companies that collectively provide health care coverage for one in three Americans. For more information, please visit: http://bcbs.com/
For more information about the Blue Distinction Specialty Care program and for a complete listing of the designated facilities, please visit http://bcbs.com/bluedistinction