Women's Imaging Center at St. Mary's Receives Full Accreditation from NAPBC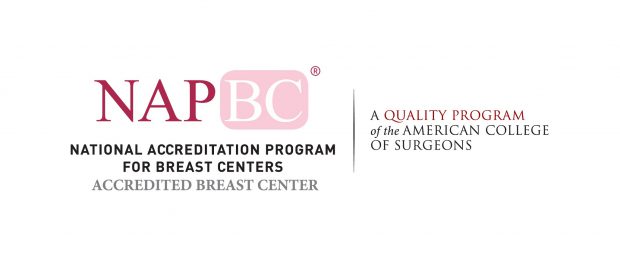 The Women's Imaging Center at St. Mary's has received a full three-year accreditation from the National Accreditation Program for Breast Centers (NAPBC), a program administered by the American College of Surgeons.
According to the NAPBC, a breast center that achieves this accreditation has demonstrated a firm commitment to offer its patients every significant advantage in their battle against breast disease.
"Congratulations and thank you to our dedicated team of physicians, nurses, and staff at the Women's Imaging Center, whose compassion and clinical skill resulted in this accreditation from NAPBC," said Norman Dascher Jr., president of Samaritan Hospital and St. Mary's Hospital, both affiliates of St. Peter's Health Partners. "This milestone is a great recognition of the high-quality, people-centered care they provide every day, to help our patients get back to the lives they love."
NAPBC accreditation is reserved for centers that have voluntarily committed to provide the highest level of quality breast care and that undergo a rigorous evaluation process and review of their performance. During the survey process, the center must demonstrate compliance with standards established by the NAPBC for treating women who are diagnosed with the full spectrum of breast disease.
According to the American Cancer Society, an estimated 231,840 new cases of invasive breast cancer were diagnosed in the United States in 2015, and approximately 40,290 women of those women died from breast cancer. Beyond those tragic cases, hundreds of thousands of women every year face benign breast disease and require medical evaluation for treatment options.
Receiving care at a NAPBC-accredited center, such as the Women's Imaging Center at St. Mary's, ensures patients will have access to:
Comprehensive care, including a full range of state-of-the-art services
A multidisciplinary team approach to coordinate the best treatment options
Information about ongoing clinical trials and new treatment options
Quality breast care close to home.
About the Woman's Imaging Center at St. Mary's
Located on the third floor of St. Mary's in Troy, the state-of-the-art Women's Imaging Center offers a comprehensive suite of clinically advanced breast imaging and bone density testing.
The 4,800-square-foot center opened in October 2017, and brought together the imaging services formerly offered at the Women's Health Center at Samaritan Hospital, St. Peter's Women's Imaging at the Massry Center, and the women's imaging services previously offered at St. Mary's Hospital.
The Women's Imaging Center at St. Mary's also brought together the professional and compassionate staff from these three legacy centers. The new center's staff includes a board-certified clinical breast radiologist.
Services provided at the new center include 3-D tomosynthesis technology for mammography screening and diagnostics, bone densitometry or DEXA, breast ultrasound, breast MRI, and biopsy.
In late 2017, the Women's Imaging Center at St. Mary's received a three-year accreditation in breast ultrasound and was named a Breast Imaging Center of Excellence by the American College of Radiology.
Click here for more information about the Women's Imaging Center at St. Mary's,
About the National Accreditation Program for Breast Centers
Administered by the American College of Surgeons, the NAPBC is a consortium of professional organizations dedicated to the improvement of the quality of care and monitoring of outcomes of patients with diseases of the breast. This mission is pursued through standard-setting, scientific validation, and patient and professional education. Its board membership includes professionals from 20 national organizations that reflect the full spectrum of breast care. For more information, visit: http://www.accreditedbreastcenters.org