St. Peter's Vascular Associates Earns Vascular Testing Accreditation by IAC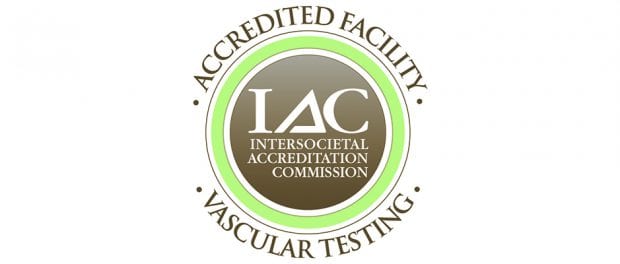 St. Peter's Vascular Associates, a practice of St. Peter's Health Partners Medical Associates, has been granted a three-year term of accreditation in vascular testing by the Intersocietal Accreditation Commission (IAC).
Accreditation by the IAC means that St. Peter's Vascular Associates has undergone an intensive application and review process and found to have met rigorous standards in the area of vascular testing.  It is a 'seal of approval' that patients can rely on as an indicator of accuracy, consistent quality care, and a dedication to continuous improvement.
"Achieving excellent results requires an accurate diagnosis. This is not possible without a team of dedicated, highly-skilled medical professionals," said Yaron Sternbach, M.D., chief of vascular services at St. Peter's Hospital. "Our team of registered vascular technologists work extremely hard to ensure our patients receive the best care and outcomes possible."
Cardiovascular diseases are the number one cause of death in the United States. On average, one American dies every 39 seconds of cardiovascular disease – disorders of the heart and blood vessels. Stroke, a disorder of the blood supply to the brain, is the third leading cause of death and the leading cause of disability in the country, with nearly 800,000 new strokes occurring every year. Vascular testing procedures, like those performed at St. Peter's Vascular Associates, enable physicians to detect these life-threatening conditions earlier, saving lives.
About St. Peter's Vascular Associates
St. Peter's Vascular Associates is a team of vascular surgeons with more than six decades of combined experience in treating vascular disease. All board-certified and fellowship-trained vascular surgeons, Dr. Kathleen Ozsvath, Dr. Yaron Sternbach, Dr. John Taggert, and Dr. William Raible offer a full spectrum of minimally invasive and endovascular surgical procedures for the entire scope of vascular disorders including for those with complex vascular disease.
Certified registered vascular technologists perform a full spectrum of imaging including venous studies for thrombosis or insufficiency, carotid arteries, aortic imaging, renal and mesenteric arteries, all arterial studies, pulse volume recordings, and portal venous imaging.
St. Peter's Vascular Associates also offers comprehensive care for those with non-healing wounds as part of its Advanced Limb Preservation program.
The practice is accepting new patients at its three offices, located in Albany, Clifton Park, and Troy. Click here to make an appointment, or call 518-525-8220.