Steven Hanks, MD, President and CEO for St. Joseph's Health and SPHP, Leads Local Health Care into the Future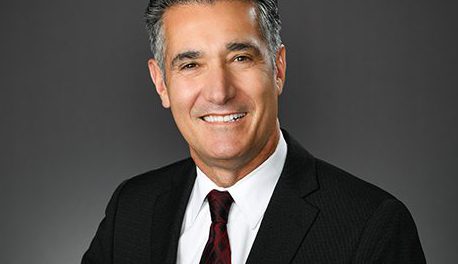 With the clock ticking toward midnight on New Year's Eve, Dr. Steven Hanks was in scrubs, caring for patients and counting down 2022 alongside colleagues in the emergency department of St. Peter's Hospital. And as the calendar turned over and transitioned into 2023, St. Peter's Health Partners (SPHP) in Albany and St. Joseph's Health in Syracuse also transitioned into a new era, with Dr. Hanks officially becoming the newest president and chief executive officer for the regional health care organizations on January 1.
After a year of planning, Dr. Hanks assumed the role following the retirement of James K. Reed, M.D. on December 31, 2022. Dr. Reed served for more than a decade in executive leadership at St. Peter's.
"The past few weeks have been a whirlwind, but the incredible team of nearly 15,000 colleagues in Albany and Syracuse have been steadfast in their support as we embrace this new era for St. Joseph's Health and St. Peter's Health Partners," Dr. Hanks said. "I am honored to serve as the President and CEO of this comprehensive, regional health system that is so widely known for its high-quality facilities, programs, and services, and for our ability to deliver the compassionate care our communities deserve."
Previously, Dr. Hanks served as chief operating officer for the regional entity since June 2022. He joined SPHP in 2016 as vice president and chief medical officer, Acute Care Albany, taking on increasingly more demanding leadership roles. He was SPHP's chief clinical officer beginning in 2018, adding the chief operating officer title for SPHP in October 2021.
In 2022, he served for five months as interim president and CEO while Dr. Reed was on a medical leave of absence and, during that time, was a principal architect of the plan to bring Trinity Health's ministries in Albany and Syracuse together.
"In Dr. Hanks, St. Joseph's Health and St. Peter's Health Partners have a leader who stands strongly committed to a mission of caring, and continually finding ways to better meet the needs of our communities," said Robert McCormick, chair of the system's Board of Directors. "He understands the importance of forging new partnerships with public and private payors, physicians and other providers to redesign and reinvent the delivery of health care services to further improve quality and access to state-of-the-art health care for all those who need it."
"We are in a critical time for health care. We face unprecedented challenges in the accessibility and economics of health care, as well as major issues related to public health, the uninsured, and aging populations," said Benjamin R. Carter, EVP and Chief Operating Officer of Trinity Health. "Yet, we face this environment with the knowledge that – with a leader like Dr. Steve Hanks at the helm of our regional New York ministry – we are the ones best positioned to effect change and realize our Mission of care."
During his tenure with SPHP, Dr. Hanks was essential to the development and implementation of the organization's short-term and long-range goals, objectives, and operational plans, while also maintaining principal responsibility for all clinical services, quality, safety, risk management, physician relations, and clinical informatics.
Leading SPHP's pandemic response, Dr. Hanks was a trusted resource to both colleagues and the community. In this critical role, he brought together not only SPHP's colleagues, but also initiated unprecedented coordination among all regional hospitals, earning him an Empire Whole Health Hero award from Empire BlueCross, in partnership with the Albany Business Review.
An experienced physician executive with 30 years of progressive responsibility in a variety of health care organizations, Dr. Hanks was with the Cerner Corporation, a global health care information technology company in Kansas City, Missouri, before coming to SPHP. Prior to that, he spent more than a decade with Hartford HealthCare in Connecticut. During his tenure in Hartford, Dr. Hanks also held the position of Assistant Dean for Graduate Medical Education at the University of Connecticut.
Dr. Hanks holds a Bachelor of Science in neurosciences from the University of Rochester, where he also received his medical degree with Distinction in Research. He completed his internship and residency in internal medicine at the University of Rochester's Strong Memorial Hospital.
During his early years in practice, Dr. Hanks earned a certificate in medical management from the American College of Physician Executives before going on to complete his master's in medical management from Carnegie Mellon University's Heinz School of Public Policy in Pittsburgh. He is board certified in internal medicine and is a fellow of the American College of Physicians and the Federation of State Medical Boards.
Dr. Hanks lives in Latham, NY, with his wife, Lisa. They have four adult children, and one grandchild.
About St. Peter's Health Partners
With 11,000 employees in more than 185 locations, St. Peter's Health Partners is one of the Capital Region's largest and most comprehensive not-for-profit integrated health care networks, and provides high-quality, compassionate, and sophisticated care to thousands of people every day. St. Peter's Health Partners is a member of Trinity Health, one of the nation's largest Catholic health systems. For more information, please visit www.SPHP.com.
About St. Joseph's Health
St. Joseph's Health is non-profit health care system based in Syracuse, NY. St. Joseph's has been an innovative leader in health care since our founding in 1869 as the first hospital open to the public in the city of Syracuse. Offering primary, specialty and home care, a Magnet-recognized hospital, and collaboration with community partners, St. Joseph's Health advances the well-being of the communities we serve through an expanding range of services to ensure our patients achieve optimum long-term health. St. Joseph's Health is affiliated with St. Joseph's Physicians, and is a member of Trinity Health. For more information, visit www.sjhsyr.org/legacy.
About Trinity Health
Trinity Health is one of the largest not-for-profit, Catholic health care systems in the nation. It is a family of 115,000 colleagues and nearly 26,000 physicians and clinicians caring for diverse communities across 25 states. Nationally recognized for care and experience, the Trinity Health system includes 88 hospitals, 131 continuing care locations, the second largest PACE program in the country, 125 urgent care locations and many other health and well-being services. Based in Livonia, Michigan, its annual operating revenue is $20.2 billion with $1.2 billion returned to its communities in the form of charity care and other community benefit programs.