For National Physical Therapy Month, Consider PT Instead of Opioids for Pain Management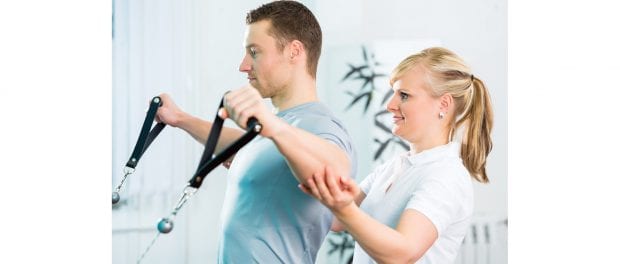 [This piece was written by Allison Sabol, PT, with St. Peter's Health Partners Physical Rehabilitation in Clifton Park.]
As the seasons change, many of us think about turning over a new leaf. Tackling outdoor chores or trying to squeeze in extra activities before winter can bring fun and enjoyment. But, in some cases, it can bring pain from old or new injuries.
October is National Physical Therapy Month. This year the American Physical Therapy Association wants to raise community awareness on how physical therapy can be a safe and effective treatment in managing chronic pain, joint pain, and lower back pain, when compared to prescription opioids for treatment.
The number of deaths from prescription opioid overdoses was five times higher in 2016 than 1999, based on a March 2018 study in the American Journal of Public Health. According to the Centers for Disease Control and Prevention (CDC), every day more than 1,000 people are treated in emergency departments for misusing prescription opioids.
For individuals undergoing long-term treatment with prescription opioids for non-cancer pain in the primary care setting, nearly 1 in 4 struggles with addiction, according to the CDC.
The current national guidelines initiated by the CDC recognize that prescription opioids are appropriate for certain conditions. However, for many conditions including fibromyalgia, low back pain, and joint pain, a non-opioid regimen and physical therapy is considered more effective.
Opioids are designed to only mask pain. Depression, addiction, overdosing, and withdrawal symptoms may be risks that develop with using opioids.
The CDC recommends physical therapy as one of the safer alternatives when managing your pain. Physical therapy is designed to help an individual achieve their maximal potential with their activities of daily life and recreational activities.
Benefits of physical therapy include:
Maximizing movement and functional abilities
Helping avoid opioid use
Helping to avoid surgery
Participating with each individual patient to achieve their treatment plans, goals and needs
Physical therapists treat patients by utilizing movement, hands-on therapy, and through patient education. St. Peter's Health Partners has 11 outpatient clinics across the region with special programs such as aquatic therapy, cancer care, women's health, and chronic pain programs available at specific sites.
Your pain is personal and important to address. Do not be afraid to speak with your health care provider to find safer options other than an opioid prescription to manage your pain. It takes you and a health care team to treat pain.
Choose physical therapy as part of your team instead of an opioid prescription. For more information regarding physical therapy services at a St. Peter's Health Partners facility near you, visit http://www.sphp.com/physical-therapy or call 518-525-5211.