LiveSmart: Alleviate COPD Symptoms With Pulmonary Rehab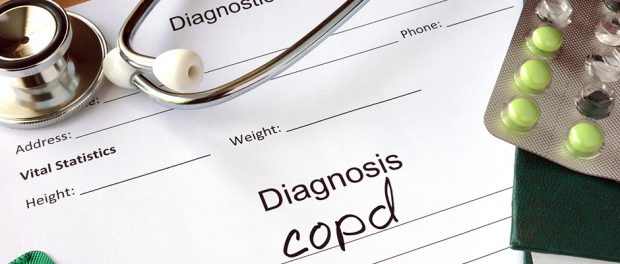 [This piece was written by Kathy Ristau, RRT, RPFT, AE-C of St. Peter's Pulmonary Rehabilitation and Wellness Program.]
You feel your chest getting tight and every time you inhale you hear a tell-tale wheeze. You feel like you're gasping for air, but yet you still can't breathe. If you experience these symptoms regularly, you could be one of the millions of Americans with Chronic Obstructive Pulmonary Disease (COPD).
COPD, also sometimes called emphysema or chronic bronchitis, is a very serious disease. According to the American Lung Association, COPD is the third leading cause of death in the United States. The good news is that COPD is often preventable and treatable.
COPD is a progressive disease that makes it difficult for sufferers to breathe, due to the airways and air sacs in their lungs losing their shape and elasticity. COPD can cause coughing that produces large amounts of mucus, wheezing, shortness of breath, chest tightness, and other symptoms.
The leading cause of COPD is cigarette smoking, and most people suffering from it either smoke or are former smokers. Long-term exposure to other lung irritants, such as air pollution, chemical fumes, or dust, also may contribute to COPD.
Although there is no cure for COPD, there are treatments that can make people living with the disease more comfortable.
St. Peter's Health Partners is proud to provide extensive care for patients who have COPD and other lung diseases through its Cardio-Pulmonary Rehabilitation and Wellness Program. The program has achieved national certification by the American Association of Cardiovascular and Pulmonary Rehabilitation (AACVPR).
St. Peter's Cardio-Pulmonary Rehabilitation and Wellness Program helps to improve the quality of life for patients with pulmonary diseases like COPD. By improving their fitness through exercise and education, patients learn to control their physical limitations. Patients must be referred by their physician and deemed healthy enough to participate, especially those recovering from pulmonary conditions including lung transplants, lung cancer, and Pulmonary Fibrosis.
The program takes place in a gym-like setting at 400 Patroon Creek Boulevard in Albany. Participants are guided through individualized rehabilitation plans put together by staff members, customized to address the patient's lung condition. The program is overseen by a medical director and run by a team that includes a respiratory therapist and an exercise physiologist.
For more information on St. Peter's Cardio-Pulmonary Rehabilitation and Wellness Program, contact 525-1062.