LiveSmart: Awareness, Support Crucial in Coping with Pregnancy and Infant Loss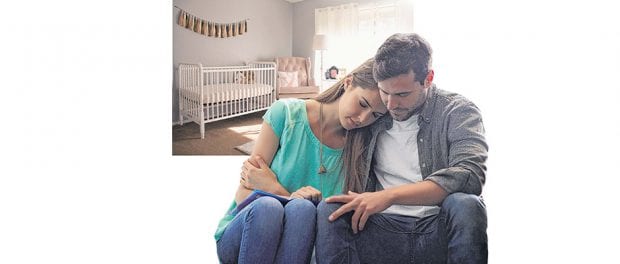 [This piece was written by Sandra Michael, RN, BSN, SNT, MST, CLC, manager of community integration, newborn and lactation services for St. Peter's Hospital.]
When a pregnancy or birth ends in loss, the grief is often overwhelming. It is important to be sure those affected by the loss are getting the emotional help they need.
According to the Centers for Disease Control and Prevention (CDC), one in four women experiences perinatal loss from miscarriage, ectopic, molar or chemical pregnancy, stillbirth or infant death. Yet, it is a very private loss and not always talked about, which can be even more devastating to the parents.
If you have lost a pregnancy or a newborn, it is common for either parent to have clinical levels of anxiety, depression and post-traumatic stress disorder (PTSD). Grief can be expressed in numerous ways, in different time parameters for each individual experiencing the loss. It is healthy and necessary to grieve, and to make your physical and emotional health a priority.
One way toward a healthy grief process is to have a sensitive conversation with close family members and friends. In these situations, loved ones often do not know what to say to comfort you, or may sometimes say the wrong things. It can be helpful to discuss what your individual needs and comfort levels are.
It can often be helpful to honor your loss. Some parents choose to plant a tree or light a candle. Others make a donation or start a group in the baby's name. Some create a special place in the home to retreat to for reflection. Honor your loss in a way that feels right for you.
If you are having anxiety or fear about possible future pregnancies, talk to your OB/GYN about your concerns. If you feel you need professional treatment to work through your emotions, consider finding a counselor or therapist who specializes in pregnancy and infant loss.
Remember, you are not alone in this journey. Look for a support group for those who have experienced the loss of a baby. It can help to talk to others who have similar grief.
St. Peter's Health Partners holds a CARES support group every other month (odd numbered months) for parents who have experienced the loss of a baby through miscarriage, ectopic pregnancy, stillbirth, or early infant death. It is a safe space where individuals can share their grief and experiences, or simply listen.
For those parents who are still in the hospital coping with the loss of a newborn, there is a new piece of equipment available to extend the amount of time parents have to spend with their baby. The Cuddle Cot resembles a crib but also includes a cooling device, helping to preserve the body of a baby in the case of stillbirth or fetal demise. Donated to St. Peter's Hospital this past summer by the McVeigh Funeral Home, the Cuddle Cot permits the family to spend every precious moment with their baby as they work through the initial grief process.
For more information on bereavement support, call St. Peter's Women's & Children's Services at 518-525-1388 or visit us at www.sphp.com/womens-childrens-sph.
Talking About Loss – What Do I Say?

When someone you care about has lost a pregnancy or an infant after birth, it is natural to want to reach out to help them through their grief. It can also be difficult to know what to say, or not say.

It is important to communicate gently and sensitively. You can start by offering a sincere apology for their loss. Simply let them know that you are there to help in any way you can.

Perhaps you can ask your loved ones what they need from you. Do they want to talk, or do they want space? Do they need help with any tasks that have just become overwhelming? Do they need help with other children or pets? With funeral arrangements?

You may feel awkward or helpless, and that's normal. Remember, you don't have to talk. Just sitting and embracing or supporting a person in silence can be helpful.

There are some important "don'ts" that experts suggest:

Avoid making statements like "everything happens for a reason," or "he/she is in a better place." These types of statements can make it feel like you are minimizing the person's loss.
Don't bring up your own experience to make it seem that you understand their grief. Every situation is different, and this is THEIR time to grieve. Keep the conversation about them.
Don't suggest someone "move on." Their lives have changed forever.

It is important to remember your loved ones will need support well after the loss has happened, especially around holidays and other special events. Experts say you should not avoid talking about the loss as time goes on. You will not be reminding them of the loss … they are already thinking of it. Rather, you will be showing them that you have not forgotten.