U.S. News and World Report Ranks St. Peter's Hospital One of Highest Quality Hospitals in New York State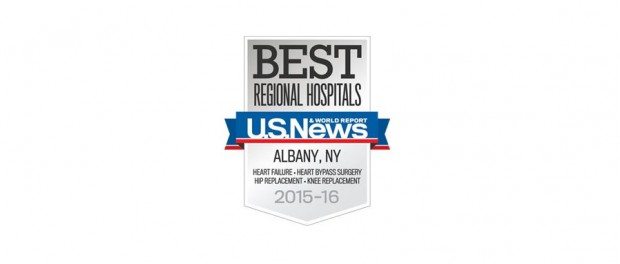 U.S. News & World Report (USN&WR) has awarded St. Peter's Hospital (SPH) its highest ranking in northeastern New York and one of the highest in New York state for excellent quality of care.
In rating nearly 5,000 hospitals nationally on key indicators of patient care, the magazine placed St. Peter's Hospital seventh among nearly 250 hospitals in New York state and the highest in northeastern New York state. (The University of Rochester Medical Center, tied for the rank of fourth in the state, was the only upstate program ranked higher than St. Peter's.)
USN&WR ranks 16 adult specialties in total – 12 according to patient care data provided to the federal government (and other elements, such as whether it has a Magnet Hospital designation for nursing services) and another four by reputation only.
Five of St. Peter's Hospital's adult specialties were named as "high ranking" – gastroenterology and GI surgery, orthopedics, geriatrics, nephrology, and pulmonology.
In addition, SPH was found to be "high performing" for several adult procedures and conditions – heart bypass surgery, heart failure, hip replacement, and knee replacement.
Ann Errichetti, MD, MBA, CEO of St. Peter's Hospital, said, "I'm delighted our consistently high quality of care and dedication to patient satisfaction has been recognized by this distinguished national ranking. This is the latest of many national distinctions for St. Peter's Hospital, thanks to everyone's day-to-day dedication to our mission of providing high-quality, compassionate care to the people we serve. It's an honor shared by our entire staff."
The U.S. News & World Report article may be seen via this link: www.usnews.com/best-hospitals.
St. Peter's Hospital, an affiliate of St. Peter's Health Partners, is the largest Catholic acute care community hospital in northeastern New York state. The hospital, founded in 1869 by the Religious Sisters of Mercy, is a voluntary, not-for-profit community tertiary hospital with 442 beds, more than 900 staff physicians, and nearly 6,000 employees.