LiveSmart: Building Healthy Families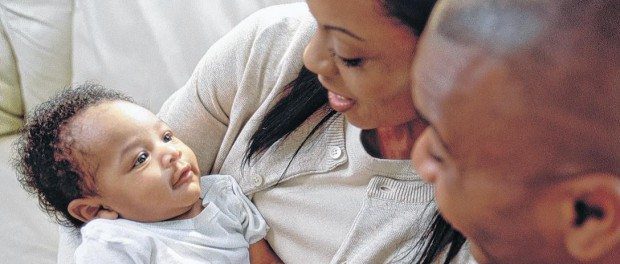 [This piece was written by Laurie McBain, LCSW, Program Manager for Healthy Families of
Rensselaer County.]
People who became parents in previous generations probably wouldn't recognize the maternity floors in hospitals and birthing centers today.
Where fathers were once exiled to smoke-filled waiting rooms, now it's very common for them to be in the labor and delivery room, coaching their partners. And many stay in the hospital afterward to help the mom through the first day or two of their new lives.
According to the American College of Obstetricians and Gynecologists, women with supportive partners have fewer problems in pregnancy and more positive feelings about their changing bodies.
However, both mom and dad need to understand from the start what they're getting into. Childbirth preparation classes and open dialogue, as well as a strong relationship with mom's obstetric provider, will help prepare parents for this life-changing experience.
Residents of Rensselaer County have access to a program, funded by the New York State Office of Children & Family Services (NYS OCFS), to help expectant parents realize their goals. Healthy Families of Rensselaer County, based out of Samaritan Hospital in Troy, collaborates with area hospitals, doctors, schools and community agencies to help individuals feel confident and enthusiastic about their role as parents.
If you or your partner are pregnant, or if you are parenting a baby who is younger than three months old, and you live in Rensselaer County, you are eligible for the program.
Our assessment service helps you identify the successes and challenges unique to your family. After the assessment, you are provided with personalized referrals that meet your family's needs and goals.
Healthy Families of Rensselaer County provides:
• In-home family assessments
• Assistance in the planning for the arrival of your baby
• Regularly scheduled home visits with a trained family support worker
• Information about infant and child development
• Fun activities that nurture the parent/child relationship
• Developmental screenings
• Information and referral to community agencies (such as job training, ESL classes, legal services, GED preparation courses, and medical insurance)
• Activity and support groups for families, including a group just for dads.
Residents of Albany and Schenectady counties also have access to NYS OCFS healthy families programs. For information on the healthy families program, contact:
Rensselaer County – (518) 274-1279 or HFRC.HFRC@SPHP.com
Albany County (serves Albany, Cohoes, Watervliet and Green Island) – (518) 447-7054
Schenectady County – (518) 386-2824
Learning how to balance the demands of parenting with other responsibilities can be challenging. Healthy Families is here to help ease that transition, while providing you with the latest information on raising a healthy child and taking care of your family.