LiveSmart: Bullying – Know the Warning Signs, Know How to Respond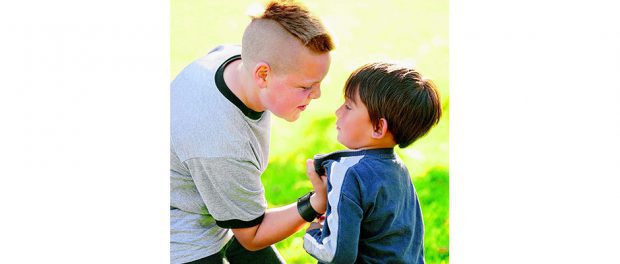 [This piece was written by Nalini Ramanathan, MD, Family Medical Group in Rensselaer, St. Peter's Health Partners Medical Associates.]
Childhood bullying has potentially serious implications for bullies and their targets. Bullying involves a pattern of repeated aggression, a deliberate intent to harm or disturb a victim despite the victim's apparent distress, and a real or perceived imbalance of power. Bullying can lead to serious academic, social, emotional, and legal problems.
A Centers for Disease Control and Prevention survey in 2013 found that 33 percent of middle school students and 20 percent of high school students reported being bullied on school property. And students are increasingly becoming victims of cyberbullying, with 15 percent reporting being bullied online.
Bullying can take many forms, including:
Frequent teasing
Theft or destruction of private property
Exclusion
Intimidation (both physical and verbal)
Harassment
Violent assault
What Are the Warning Signs?
Whether a child is a victim or perpetrator of bullying, there are signs parents should look for. The child may:
Be depressed, lonely or anxious
Have low self-esteem
Display physical injuries
Be upset after using the computer or cell phone
Complain of headaches or stomachaches
Develop poor sleeping or eating habits
Express a desire to avoid social situations (e.g. asking to skip school, sports, or activities)
Express a desire to hurt themselves
As for the child doing the bullying, common characteristics can include:
Impulsive, "hot-headed," dominant personalities; many are physically strong, with inflated self-esteem
Easily frustrated; have difficulty conforming to rules
Complain others pick on them; see threats where none exist
Antisocial; defiant toward adults
Lacking empathy
Have a positive attitude toward violence
May have a psychiatric disorder contributing to aggressive behavior
May experience peer rejection and social isolation
May experience or witness violence and abuse at home
May experience lack of parental involvement, supervision, and nurturing
Prevention: Early Intervention is Key
Efforts to prevent bullying must address individual, familial, and community risk factors, as well as promote an understanding of the severity of the problem. Identifying possible victims and bullies is a responsibility shared by parents, teachers, and health care professionals.
Early intervention should focus on social and cognitive skills training, problem-solving techniques, and anger management. Parent training is essential to reinforce the need for adequate nurturing and supervision, appropriate discipline practices, and modeling of positive social behaviors.
Steps parents and caregivers can take, according to the American Academy of Pediatrics, include:
Talk to the parents of your child's friends to determine if they have witnessed/experienced bullying
Talk to school staff and know the school's policy on bullying
Help your child identify people at school they can trust and who can be allies
Talk to your child's physician
It is unlikely a child will present to their family physician with a chief complaint of bullying or being bullied. However, physicians can identify at-risk patients, counsel families, screen for psychiatric disorders, and advocate for bullying prevention in the community. Your child's physician has access to numerous resources to help you build supportive home, school, and community environments that value caring, respect, and diversity.
Family Medical Group at 279 Troy Road in Rensselaer, a member of St. Peter's Health Partners Medical Associates, offers a complete range of services for children from newborns to age 18. Services include both well- and sick-child care; school and sports physicals; immunizations; health maintenance and education; and access to other services and specialists. Call 518-286-1922 for an appointment.