LiveSmart: Celebrate Independence Day Safely – Use Caution with Sparklers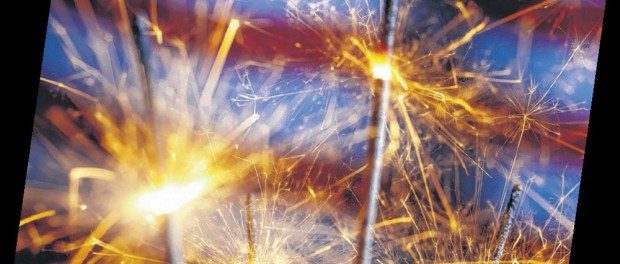 [This piece was written by Samuel Bosco, MD, FACEP, Chief of Emergency Medicine at St. Peter's Hospital.]
As we approach the July 4th holiday, you've probably noticed the displays while out shopping. Throughout the Capital Region – except in Albany County – "sparkling devices" are legally available for purchase this year, due to recent changes to the New York Fireworks Law.
Sparklers, fountains and party-poppers are examples of ground-based or hand-held "sparkling devices" that are now permissible under the revised regulations. They differ from the kind of fireworks that rise into the air, fire inserts or explode, which remain illegal to possess and use in New York State.
However, just because these "sparkling devices" don't explode does not mean they are not potentially dangerous for adults and children. Sparklers can burn at temperatures of about 2,000 degrees Fahrenheit – hot enough to melt some metals. They can also catch on your clothing, hair and even spark a fire in your home.
Sparklers accounted for the number one cause of fireworks injuries that required trips to the emergency room in 2011. The most injured body parts are hands, fingers, face and eyes, and common injuries can include serious burns, lacerations, contusions and foreign matter in the eye.
According to the U.S. Consumer Product Safety Commission, more than 40 percent of those injured are children younger than age 14, with those most frequently injured being boys aged 10 to 14-years-old.
Some tips on sparkler safety to keep in mind:
Never allow children to play with or handle sparklers;
Never light two or more sparkling devices at the same time;
Never try to relight or pick up fireworks that have not ignited fully;
Never mix alcohol or other substances with sparklers;
Use only outdoors on flat, hard surfaces like concrete in clear areas and away from houses, building and dry grass;
Keep a bucket of water nearby and place used sparklers into it;
Carry a cell phone in case the fire department or medical help is needed.
Please exercise caution this July 4th if you decide to use sparklers – when they are in use, a backyard celebration can quickly turn into a medical emergency.
St. Peter's Hospital Emergency Department (518-525-1550) provides a comprehensive range of services on a 24/7 basis for all types of medical emergencies. Emergency medicine-certified physicians and other specially trained personnel work together to provide patients and families a patient-focused approach to emergency care.