LiveSmart: Female Puberty – When to Start Seeing an OB/GYN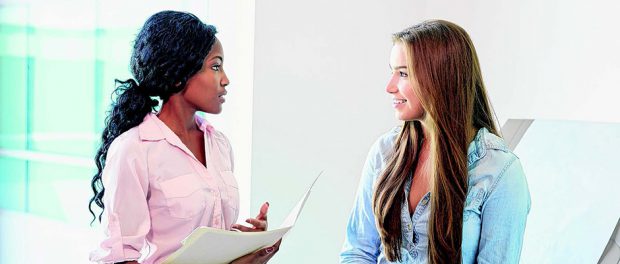 [This piece was written by Vincent Corcoran, MD, Samaritan OB/GYN, operated by St. Mary's Hospital – Clifton Park, a member of St. Peter's Health Partners Medical Associates.]
For the parents of children who are experiencing puberty, those first conversations regarding the natural life changes the adolescent was experiencing were likely laced with some nervousness. Even for those who prepared, it can be difficult to talk to your child in a confident and open way about the physical and emotional changes of puberty and sexuality. But, we all recognize those conversations are critical in the effort to develop a child's character and well-being.
For the parents of girls, the conversation will naturally include the topics of menstruation, feminine protection products, personal hygiene, premenstrual syndrome (PMS), and more. But at what point should the conversation turn to choosing a gynecological health provider?
The American College of Obstetricians and Gynecologists recommends that adolescents establish care with an OB/GYN between the ages of 13 and 15. The initial visit serves several purposes:
Establishes a relationship and comfort level with a new provider besides the adolescent's pediatrician.
Provides an opportunity for the adolescent to review her reproductive health.
Provides an opportunity to address any concerns or questions she may have.
Parents can help with the transition by reassuring the adolescent that her pediatrician and gynecologist will collaborate to ensure her overall health. While her pediatrician will continue to address general health maintenance and concerns, the gynecologist will focus on her reproductive health.
A gynecologist can provide answers to many common inquiries an adolescent will have regarding her menstrual flow, length of her cycle, menstrual pain, bleeding in between periods, and coping strategies to deal with PMS. OB/GYN's can also assist with a young woman's overall health by providing guidance on maintaining strong, healthy bones; addressing urinary tract infections; and presenting treatment options for vaginal discomfort or discharge.
In addition, adolescents are sometimes referred by their primary care physician to a gynecologist for issues discovered during annual exams. This can include menstrual disorders, concerns regarding reproductive anatomy, or recurrent vaginal infections.
Ultimately, the OB/GYN's role in your adolescent's development is to provide her resources to educate and protect herself, while being a confidant and protecting her medical privacy. It is an important relationship and one best started before the adolescent reaches an age when she begins to explore relationships and her sexuality.
Samaritan OB/GYN, operated by St. Mary's Hospital – Clifton Park (855 Route 146, Suite 150), a practice of St. Peter's Health Partners Medical Associates, offers a full range of obstetrical and gynecological services using the latest technologies and treatments. Services include annual exams and menopause management. In addition to our conveniently located office in Clifton Park, the practice also has offices in Latham, Troy, Cohoes and East Greenbush. Call 518-373-4555 for information or an appointment.