LiveSmart: Happy Easter – Let's Talk Eggs!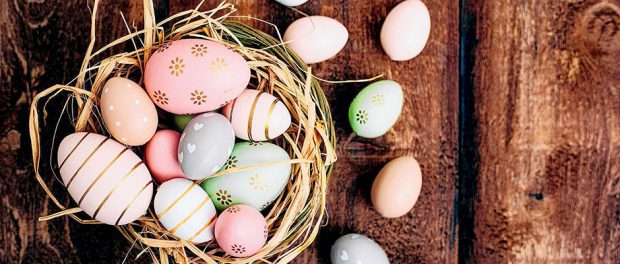 [This story was written by Jamie Epting, MS, RD, CDN, the system director of clinical nutrition for St. Peter's Health Partners.]
You can't think of Easter without thinking about eggs. Brightly colored eggs are everywhere. We decorate them, decorate with them, and hide them full of candy and treats for our kids. They have been a part of Easter celebrations for hundreds of years, symbolizing new life.
From a dietary standpoint, eggs got a bad rap for a couple of years. The cholesterol in the yolk was the target, so the trend was to eat only the whites. In 2000 the American Heart Association revised its recommendation, stating they found it was saturated fat – not dietary cholesterol – that has negative effects on our blood cholesterol. The recommendation now is to enjoy one egg a day and keep your dietary cholesterol to 300 mg per day.
The truth about the humble egg is that a whole egg is one of the most complete foods on the planet. It contains small amounts of just about all the nutrients your body needs. This includes carotenoids that reduce our risk of macular degeneration; choline to help with brain development; and vitamin A, folate, the B vitamins, phosphorus, selenium and a number of trace elements important to your health. Not to mention they are packed with protein to build strong muscles and build, heal and repair tissue. Bottom line, eggs are a great part of a healthy diet.
In my household on Easter, we follow in the Italian tradition of using eggs to make Easter pies, known to some as pizza rustica. We make a savory version with ham and fresh cheese and a sweet version with rice in a sweet lemon custard. I have included my family's Italian rice pie recipe for you to try and enjoy with your family.
Happy Easter and Happy Spring!
Rice Pie

Filling:
1 ½ cups cooked white rice

1 ½ lbs ricotta cheese

6 eggs

3 cups milk

1 cup sugar

1 Tbsp real lemon juice

2 tsp lemon extract

Dough:
4 cups flour

1 ½ cups shortening

2 eggs

2 Tbsp sugar

2 tsp baking powder

Pinch salt

½ cup water

Directions:


Pre-heat oven to 350 degrees.
Grease a 9×13 pan.
Mix all filling ingredients in bowl.
Prepare dough.
Roll 2/3 of the dough to fit the 9×13 pan, including up the sides.
Pour in filling.
Roll out the remaining dough and cut in strips to crisscross over the top. Seal to sides.
Bake for about 1 hour and 20 minutes, until the custard is set. If the crust starts to brown, cover with foil to finish baking.