LiveSmart: Keep it Clean — Exercise Proper Hand Washing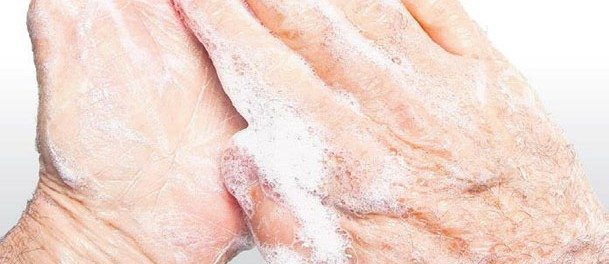 [This piece was written by Diane Tenenbaum, MD, of St. Peter's Children's Health Center.]
You count on your hands every day to do your dirty – as well as your clean – work. You comfort a baby with your hands…and change his diaper. You wash dishes with your hands…and empty the garbage. You prepare raw chicken for cooking with your hands…and put the finishing touches on a birthday cake.
Of course, in between the dirty and the clean it's important to wash your hands. We all learned about hand washing in grade school, how it is the best way to avoid getting or passing along infectious diseases such as colds, the flu or even more serious diseases.
Now that the kids are back to school and we are entering cold and flu season, this is prime "germ sharing" time. It's important to remember – and remind those kids – that washing your hands frequently is the best defense.
You should always wash your hands:
Before eating.
After using the toilet, when the number of germs on your finger tips doubles.
When you've coughed or sneezed.
After you've petted or cared for pets.
Before preparing food.
After touching raw meat, poultry or fish and especially before you touch any fresh food, such as lettuce, that does not require cooking.
When you've changed a baby's diaper.
When you've been working outside in the garden.
After handling garbage.
After you've taken medication or treated a sore on your skin.
Before inserting or removing a contact lens.
How you wash is just as important as when you wash. Just placing your hands under running water for a few minutes will do little, if anything, to get rid of harmful bacteria. Always remember to:
Use warm water and soap, lathering up all over the hands, in between the fingers, under the nails and up the wrists. Remember that millions of bacteria can hide under a ring, watch band or bracelet.
Take at least 20 seconds – the time it takes to sing the Happy Birthday song twice – to wash, rubbing the hands vigorously together before rinsing.
Dry the hands thoroughly with a clean towel or paper towel.
If you're concerned about the time it takes to wash your hands properly, think about the time it takes to recover from an infectious illness. One study found that Detroit school children who washed their hands four times a day had significantly fewer sick days because of respiratory or stomach illnesses. That's a plus for parents, teachers and children alike!
St. Peter's Children's Health Center (1092 Madison Avenue, Albany – 525-2445) offers a complete range of services for children from newborns to age 18. Services include well-child routine care, sick child exams, school and camp physicals, sports physicals, immunizations, health maintenance and education, and access to other hospital services and referrals to specialists.