LiveSmart: Kids and Diabetes — A Weighty Issue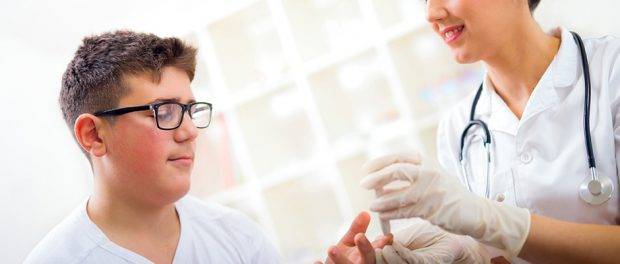 [This piece was written by Diane Tenenbaum, MD, of St. Peter's Children's Health Center.]
It is a story that is familiar to anyone who follows the news – the number of American children who are overweight or obese is skyrocketing. Over the past three decades, the prevalence of children who are obese has doubled, while the number of adolescents who are obese has quadrupled, according to the Centers for Disease Control and Prevention.
Even more frightening is that Type 2 diabetes – historically found in adults – is increasingly being discovered in young adults and adolescents.
The increase in diagnoses across all age groups is undeniably linked to the climbing obesity rates across the state. More than one third of children in New York are either overweight or obese, according to figures from the State Department of Health. And those children are at an increased risk of developing Type 2 diabetes later on in life.
One of the simplest steps to help kids keep their weight in check – make sure they start the day with breakfast. A 2008 study in the journal Pediatrics found that adolescents who ate breakfast daily had a lower body mass index than those teens that never ate breakfast or only on occasion.
The science is simple – starting off with breakfast provides students with an emotional lift and energy to face daily tasks. And study after study has shown students who start the day with breakfast are less likely to grab an unhealthy snack when those energy reserves start to run low.
Breakfast is also a great place to make sure your child is getting his or her crucial calcium and vitamin D to build strong bones. Kids enter their peak bone-building years in adolescence and continue building bone into their early 20s. Although vitamin D is best known for its role in promoting calcium absorption, new studies show vitamin D may also boost immunity and help prevent infections and diabetes.
For parents and caregivers, the fight against obesity and diabetes begins at home. By encouraging healthy eating habits and regular exercise, families can make great strides!
St. Peter's Children's Health Center (1092 Madison Avenue, Albany – 525-2445) offers a complete range of services for children from newborns to age 18. Services include well-child routine care, sick child exams, school and camp physicals, sports physicals, immunizations, health maintenance and education, and access to other hospital services and referrals to specialists.