LiveSmart: Maintaining Kids' Emotional Health During the Holidays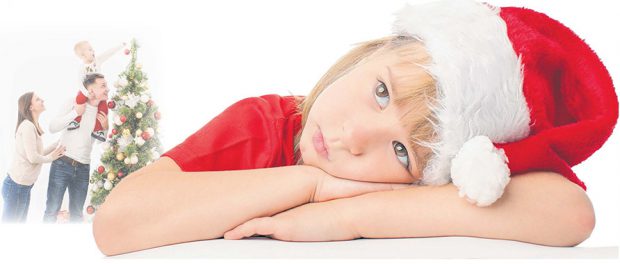 [This piece was written by Mark Osborn, M.D., Chief of Pediatrics for St. Peter's Hospital, and a provider with St. Peter's Children's Health Center.]
This time of year can be particularly fraught with stress for children, as the hustle and bustle of the holiday season leaves many of them mentally and emotionally overwhelmed. What can parents do to make the season fun and safe?
The American Academy of Pediatrics (AAP) recommends:
Do your best to keep household routines the same. Stick to your child's usual sleep and mealtime schedules when you can, which may reduce stress and increase your family's enjoyment of the season.
Take care of yourself both mentally and physically. Children and adolescents are affected by the emotional well-being of their parent or caregivers. Coping with stress successfully can help children learn how to handle stress better, too.
Be mindful and make a plan to focus on one thing at a time. Whether you are shopping, cooking, or celebrating at a family get-together: Stop and pay attention with your child to what is happening at the moment.
Give to others. For example, if your child is old enough, encourage him or her to join you in volunteering to serve a holiday meal at your local food bank or shelter, or sing at a local nursing home.
Kids still need to brush their teeth twice a day!
Make time for holiday gatherings, viewing holiday television specials together, baking treats, playing board games – whatever traditions define your family's holiday season. This is where positive memories are made!
Remember that many children and adults experience a sense of loss, sadness or isolation during the holidays. It is important to be sensitive to these feelings and ask for help for you, your children, family members or friends if needed.
Parents need to be especially alert to changes in those children already working through mental and emotional issues prior to the holiday season. When your child has a barking cough or a fever, it's easy to spot and treat. However, the warning signs of a serious depression aren't nearly as obvious.
Because younger kids usually can't express their emotions, they may act out and be irritable toward others. For older children, the symptoms can include: being persistently sad or irritable; having a significant weight or appetite change; loss of interest in activities; trouble sleeping or concentrating; frequent absences or poor school performance; alcohol or other drug use; reckless behavior; and difficulty with relationships.
Parents should remember that depression is much more than an occasional bad mood or "feeling blue." If it seems unusually intense or lasts for weeks or months, seek professional help.
St. Peter's Children's Health Center at 1092 Madison Avenue in Albany offers a complete range of services for children from newborns to age 18. Services include well-child routine care, sick child exams, school and camp physicals, sports physicals, immunizations, health maintenance and education, and access to other hospital services and referrals to specialists. Call (518) 525-2445 for an appointment.