LiveSmart: No Trick, These Healthy Snacks Are a Treat!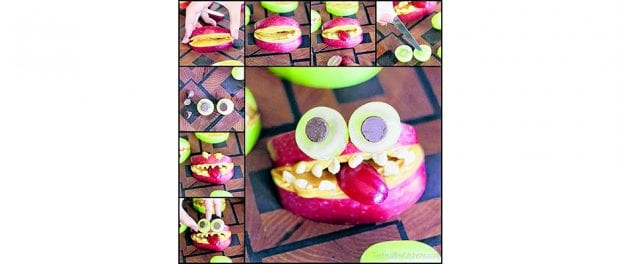 [This piece was written by Aimee Croft, RD, lead dietitian for St. Peter's Hospital.]
Ghosts and goblins may not be the only scary thing this Halloween! Saturated fats and sweet treats can be just as frightening to your diet. Here are a few healthy substitutes to include at your next party or on kid's plates, so your Monster Mash won't crash your diet.
First, try changing out sour cream or mayonnaise with lower fat options such as plain Greek yogurt or avocado, to decrease saturated fat. Another idea is to swap out added sugars with natural sugars.
Instead of having candy corn for dessert, substitute with a parfait in the same color scheme. Layer yogurt on the bottom and then add a layer of orange fruit, such as cantaloupe or oranges. Finally, top it all off with a yellow fruit such as pineapple or mango. This sweet treat will add vitamin c, fiber, and a boost to your immune system to ward off Dr. Frankenstein for another day.
Fruits and vegetables are a great vehicle for creative minds. Transform basic shapes of sliced apples, grapes, cereal, bananas, pretzels, and oranges into ghosts, monsters, broomsticks, pumpkins, or spiders – Oh my! Visit www.twohealthykitchens.com for tips on how to transform apples, grapes, cereal, nut butter, and dark chocolate into playful monsters.
Some of my favorites: Take a clear cup, fill it with green grapes, and then decorate the cup with markers to look like a monster. Mold pretzels and cheese into broomsticks or peel oranges and top off with celery to make pumpkins. Another ghoulish treat is half a banana with dark chocolate chips eyes and a raisin for a mouth. Get creative and soon you'll have a platter full of delicious Halloween flair (not to mention good sources of vitamins and minerals).
Using food as puzzle pieces, a creative chef can make anything from a witch to a skeleton, although a festive title can often make a bigger statement than what a dish looks like. If your sculpting skills are a little rusty, keep it simple: Set out a platter of veggie sticks and call it a Bag of Bones with dip! Or, turn a fruit salad into a pile of eyes with the key placement of a few eyeball candies.
Are you carving pumpkins this year to invite in the good spirit of Halloween? If so, don't leave the seeds behind! Roasted pumpkin seeds make a great snack by themselves or can be added to a themed trail mix to add fiber and protein. The carved pumpkin can also be used for table decoration or to hold your fruit salad (just fit your serving dish right inside).
So, this Halloween, whether your party is scary or goofy, or you're just trying to get more fruits and vegetables into your kids' diet, remember to use your imagination and to put nutrition first! Happy Halloween!