LiveSmart: Peanut Allergies Continue to Rise in U.S.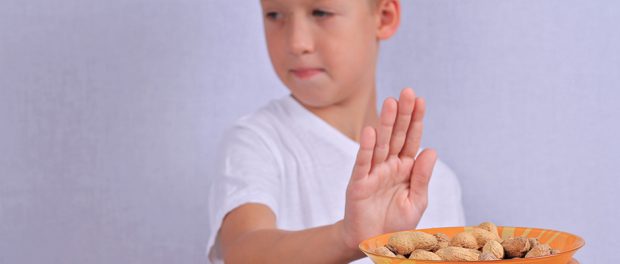 [This piece was written by Mark Osborn, M.D., Chief of Pediatrics for St. Peter's Hospital, and a provider with St. Peter's Children's Health Center.]
A generation ago, many parents had never even heard of peanut allergies. Today it is a much different story – many daycare centers, classrooms and even entire schools have been declared "peanut free zones." And we all know someone with a peanut allergy, or have kids in school with classmates who cannot eat – or even touch – peanut products.
The American Academy of Allergy, Asthma and Immunology (AAAAI) reports that in 2012, 4.1 million children in the United States reported a food allergy. Peanuts were reported as the most prevalent allergen, followed by milk and then shellfish. Today, three million Americans of all ages report severe allergies to peanuts (and tree nuts).
Peanut allergies among children in the United States have risen more than threefold, to 1.4 percent in 2010 from 0.4 percent in 1997, according to a study at Mount Sinai Hospital in New York City.
Scientists don't know for sure why there has been a surge in allergies, but there are theories. Some think roasting peanuts (as we do in the U.S.) makes them more highly allergenic than boiling them (as they do in China). Still others think efforts to make our homes as germ-free as possible with numerous anti-bacterial products are creating "too clean" houses that don't challenge our immune system to fight off parasites. Instead, our bodies turn on themselves, with food protein as the enemy.
Experts not too long ago suggested keeping fetuses and breast-fed babies from exposure to peanut protein, hoping to curb the rise in peanut allergies. Today, the thinking is exactly the opposite. Instead of restricting unborn or nursing babies' exposure to peanut protein, recent studies reveal the tiny amounts that may enter the baby's circulation when a pregnant or nursing woman eats peanuts might actually lead to greater peanut protein tolerance.
While scientists work to solve the puzzle of peanut allergies, they need to be taken seriously. For some kids, even touching a table where a peanut product was sitting can cause a life-threatening reaction.
The potentially fatal reaction, called anaphylaxis, can occur quickly with symptoms of itchiness, swelling of the tongue and throat, constriction of the airway, a precipitous drop in blood pressure, rapid heart rate, fainting, nausea and vomiting. Unless the reaction is stopped by an injection of epinephrine (adrenaline), anaphylaxis can be fatal.
Parents should heed the advice of their pediatricians and the American Academy of Pediatrics regarding allergy testing for their children. To view the AAP's emergency plan for allergy and anaphylaxis, visit: http://www.aappublications.org/news/2017/02/13/Anaphylaxis021317
St. Peter's Children's Health Center, 1092 Madison Avenue, Albany, offers a complete range of services for children from newborns to age 18. Services include well-child routine care, sick child exams, school and camp physicals, sports physicals, immunizations, health maintenance and education, and access to other hospital services and referrals to specialists. Call 518-525-2445 for more information or an appointment.