LiveSmart: Support, Assistance Critical for Victims of Domestic Violence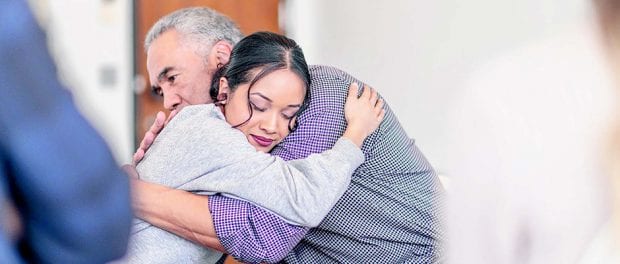 [This piece was written by Ryan Melone, MHC, therapist/prevention educator, the Sexual Assault and Crime Victims Assistance Program with St. Peter's Health Partners.]
Throughout October, many people spend their time preparing for Halloween. They marvel at ghosts, goblins, and all manner of scary things that capture the imagination. It is important to remember, though, that October is also Domestic Violence Awareness Month, a time to reflect on the very real, very scary problem of intimate partner violence.
Domestic and intimate partner violence are defined as a pattern of coercive behavior which serves to establish, demonstrate, and maintain power and control over family/household members or intimate partners. According to the Centers for Disease Control and Prevention and the National Coalition Against Domestic Violence:
1 in 3 women and 1 in 4 men have been victims of some form of physical violence by an intimate partner at some point in their lifetime.
Approximately 20 people per minute (1 every 3 seconds) are physically abused by an intimate partner in the United States, equaling around 10.5 million people every year.
Intimate partner violence accounts for close to 15 percent of all violent crime.
1 in 15 children are exposed to intimate partner violence each year; 90 percent of these children are eyewitnesses to this violence.
Roughly 20,000 phone calls are placed daily to domestic violence hotlines nationwide.
There are several types of abuse that can occur:
Verbal abuse is one of the most common and can include words or language to intimidate, coerce or threaten the victim. This includes shouting, threatening, name-calling, and shaming.
Emotional or psychological abuse can take the form of isolation from social support (family and friends), gas lighting (making the victim question their own sanity), or humiliation.
Physical abuse is considered to be any act of physical violence, including hitting, shoving, or restraining a partner.
Sexual abuse includes any unwanted sexual contact, such as unwanted groping or forcing a partner to have sex against their will.
Economic abuse is when an abusive partner exerts control over the victim by controlling their finances, including monitoring their bank account, sabotaging employment efforts, or demanding money from the victim.
When a victim has made the decision to leave their abuser it can be the most dangerous time in the relationship, so connecting with service providers who can help with safety planning and support is critical. If you or someone you care for needs to exit a relationship that is unhealthy and abusive, there is help available.
The Sexual Assault and Crime Victims Assistance Program (SACVAP) with St. Peter's Health Partners offers a free, anonymous 24-hour hotline at 518-271-3257. You can call any time, day or night, and speak with a trained counselor who can help you or your loved one take the first step towards safely leaving an abusive relationship.
SACVAP also offers free services to people impacted by abusive relationships, including counseling, therapy, support groups, legal advocacy, information and referrals, and in some cases, free legal representation.
To inquire about services, call the program's Intake Coordinator at 518-271-3410.