LiveSmart: Monoclonal Antibody Therapy Helps COVID-19 Patients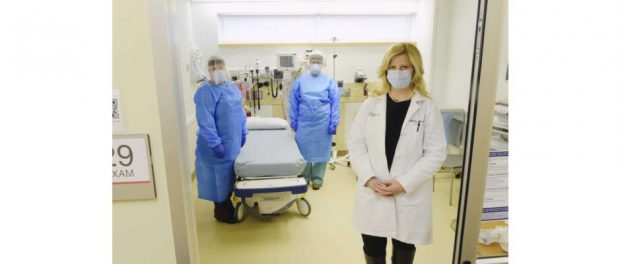 [This story was written by Melissa Fiorini, MD, Director, Monoclonal Antibody Infusion Clinic, Albany Memorial Campus]
Back in December, as COVID cases began to climb following the Thanksgiving holiday, St. Peter's Health Partners opened its monoclonal antibody infusion clinic at the Samaritan Hospital – Albany Memorial Campus. In just a few short months, St. Peter's has treated more than 500 patients with the therapy.
From my experience at the bedside, I have seen first-hand the benefits this treatment can have, especially for the elderly who are most at risk of hospitalization and severe illness. For many people infected with COVID-19, symptoms can be mild, but for a large number of people, symptoms can quickly become very serious and even deadly.
With monoclonal antibody therapy, patients receive an intravenous administration of bamlanivimab or the combination of casirivimab and imdevimab. These drugs are designed to enhance the body's natural immune response to the virus and must be given within 10 days from the first onset of symptoms.
I cannot stress enough – if you are sick and suspect it is COVID, get tested as soon as possible, and contact your primary care provider to ask if you are eligible for monoclonal antibody therapy. For it to be effective, it must be administered before you become very ill with COVID-19.
Research so far has shown that in certain people, these new drugs, made by Eli Lilly and Regeneron Pharmaceuticals, may help symptoms improve sooner and might lessen the likelihood that the patient will need hospitalization. Monoclonal antibody therapy is currently the only FDA-authorized outpatient therapy for COVID-19.
Only those patients who are eligible (see below) and have a referral from their provider can qualify to receive this treatment. If you do not have a primary care provider, but believe you meet the eligibility requirement, email MABReferrals@sphp.com.
ELIGIBILITY:
Must have a positive COVID-19 test
Weigh at least 40 kg (about 88 pounds)
Be at high risk for hospitalization or severe COVID-19 illness
HIGH RISK DEFINED AS:
Over the age of 65
Have a body mass index (BMI) greater than 35
Have diabetes
Have chronic renal disease
Have an immunosuppressive disease
Are currently receiving immunosuppressive treatment
Are at least 55 years of age AND have cardiovascular disease, or hypertension, or chronic obstructive pulmonary disease/other chronic respiratory disease
St. Peter's Health Partners has been at the forefront of COVID-19 treatment. St. Peter's Hospital and Samaritan Hospital were among the first hospitals in the United States to obtain FDA approval to treat critically ill patients infected by COVID-19 with blood plasma from a COVID-19 survivor. To date, SPHP has treated more than 250 patients with this convalescent plasma therapy.
These experimental therapies are being deployed alongside the compassionate, patient-centered care for which St. Peter's Health Partners has always been recognized. If you or a member of your family needs a physician or information about other St. Peter's services, call the St. Peter's Physician Referral & Information Line at 518-525-2227.