Virtual Support Groups Offer Crime Victims a Sense of Safety, Community During COVID Pandemic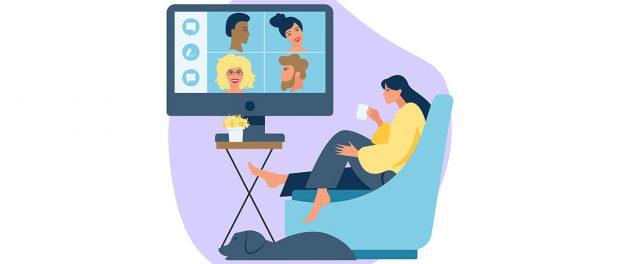 [This story was written by Ryan Melone, MHC, Therapist/Prevention Educator and Liz Karam, Counselor/Caseworker, St. Peter's Crime Victim Services]
The COVID-19 pandemic has highlighted the need for social support and human connection. In a time when interacting with others has never been more challenging, it has also never been more important. Peer support has been shown to reduce feelings of isolation, encourage hope, and decrease anxiety and stress.
To help victims and survivors of crime foster connection during the pandemic, St. Peter's Crime Victim Services (SPCVS) is offering ten online support groups starting February 1. These support groups will help victims and survivors throughout the Capital Region and across New York state learn coping skills, develop wellness strategies, and access support from the safety and comfort of their own homes.
The groups focus on a variety of topics including: the power of music and art in wellness, body-mindfulness, healthy relationships, navigating trauma and addiction, and more. Groups will be held on a weekly basis for ten weeks, using Zoom's video communications platform. Participation is confidential and offered at no cost to group members.
In order to participate, individuals must:
Be a victim/survivor of crime.
Receive additional support (from SPCVS, another victim assistance program, or another mental health provider).
Complete a brief intake with the SPCVS staff person who is co-facilitating the group.
The deadline to register for these groups is January 25, 2021. To learn how to register, and for a complete list of the groups and their descriptions, please click here. We hope to see you there!
St. Peter's Crime Victim Services offers free and confidential services to innocent survivors of crime. Available services include medical and legal advocacy, short-term counseling, therapy, and compensation assistance. For more information, please call 518-271-3410 or visit us at www.sphp.com/sexual-assault. If you have been assaulted or urgently need to speak with someone outside of business hours, please contact our 24-hour hotline at 518-271-3257.