Nurse Practitioner Sandra Hermans Rejoins Capital Region Urology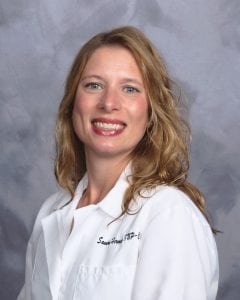 St. Peter's Health Partners Medical Associates (SPHPMA) is pleased to welcome back Sandra Hermans, NP, to Capital Region Urology.
A nurse practitioner with more than 10 years of experience in urology, Hermans previously practiced at Capital Region Urology before leaving for Saratoga Regional Urology Associates in Saratoga Springs. Her professional interests include urinary incontinence, pelvic prolapse, voiding dysfunction, and general urological care.
A board-certified nurse practitioner, Hermans has strong ties to the Capital Region. She received her master's degree from the Sage Graduate School in Albany, and earned her undergraduate degree in nursing from the Russell Sage College in Troy.
Hermans practices urological care at Capital Region Urology, located at 4 Executive Park Drive, 2nd Floor, Albany, and at its new site at 855 Rte. 146, Building B, in Clifton Park.
Capital Region Urology has a long tradition of caring for the residents of the Capital Region, tracing its roots back to the early 1900s. Today, physicians and nurse practitioners offer high-quality, innovative and comprehensive urological medicine in both office and hospital settings. Providers are highly trained in general urology, female urology, male infertility, management of stone disease, and urologic oncology. They also offer laparoscopic and robotic renal and prostate surgery.
Capital Region Urology is accepting new patients at its new Clifton Park office. For more information, or to schedule an appointment, call 518-489-7494.
St. Peter's Health Partners Medical Associates, with more than 350 physicians and advanced practitioners in more than 80 locations, is affiliated with St. Peter's Health Partners – the region's largest and most comprehensive not-for-profit network of high-quality, advanced medical care, primary care, rehabilitation, and senior services.