NYS Home Care Association Recognizes Wanda Nycklass with "2021 Caring Award"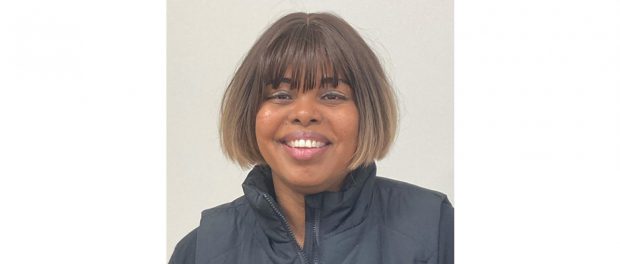 [This story was written by Angela L. Yu, manager of marketing & communications, Continuing Care Division.]
Congratulations to Wanda Nycklass, home health aide for Eddy SeniorCare/PACE (Program of All-inclusive Care for the Elderly), who has been recognized by the Home Care Association of New York State with its 2021 Caring Award.
Nycklass was cited for exhibiting the compassion, skills and service that sets her contribution apart and exemplifies caring in home care. Despite the anxiety and fear early on during the COVID-19 pandemic, Nycklass rose to the occasion and gladly accepted the assignment of caring for Eddy SeniorCare's first COVID-positive participant — and she did so without hesitation.
Nycklass was recognized for "always demonstrating a calm and professional demeanor and was the role model that her colleagues needed in the storm." Nycklass maintained perfect attendance throughout the pandemic and was a fixture of dependability during chaotic times.
Nycklass consistently demonstrates unparalleled dedication to her Eddy SeniorCare participants, stepping forward in many ways. Recently, she provided two 12-hour respite shifts on her days off when a SeniorCare participant's caregiver needed surgery. In recognition for her leadership and care, Nycklass achieved Level II on The Eddy's Home Health Aide Career Ladder Program — a testament to her advancement as a caring professional.
Eddy SeniorCare is the Capital Region's only Program of All-Inclusive Care for the Elderly (PACE). PACE is a special model of care proven effective at helping older adults with long-term health care needs live safely at home.
Eddy SeniorCare supports seniors at home by bringing together under one roof a wide array of medical care, home health care, therapy, and other support services. In the PACE model of care, each participant's health and support services are managed by a care team that is based at our agency. The team includes a doctor, a registered nurse, therapists, home health aides, day center staff, transportation drivers, nutritionists, social workers, and others. The PACE "one-roof" team model of care improves care coordination and responsiveness.
The Home Care Association of New York State is a statewide health organization comprised of nearly 400 member providers and organizations delivering home and community-based care to several hundred thousand New Yorkers annually.