Samaritan Hospital School of Nursing Student Helps Save a Life at Local Gym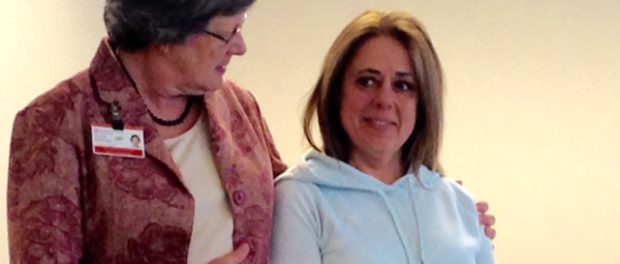 Kathleen Hale was definitely at the right place at the right time Wednesday morning. A student at the Samaritan Hospital School of Nursing, Hale was working out at ABC Sports and Fitness in Latham when suddenly a woman suffered a cardiac event collapsing between two elliptical machines.
Hale sprang into action, along with a gym employee and an off-duty firefighter also exercising at the time. The group worked together to resuscitate the woman by activating the emergency response system, performing CPR, and defibrillating the victim. As a result, the woman was revived and taken to the hospital for further care.
On Wednesday evening, Hale texted her nursing instructor, Laurie Cox, MS, RN. "I just want to thank you for all the training you've given me," Hale wrote. "Today at the gym, I did CPR and because of all my training, I was able to do it.  I didn't think this person would make it, but by the time the ambulance got there, she had a pulse.  God willing, she'll make it.  What an overwhelming feeling.  I just know nursing is what I want to do.  Thank you for believing in me."
Congratulations to Hale for her heroic actions! And congratulations to the Samaritan Hospital School of Nursing for educating students and helping save lives!