Saratoga Cardiology Welcomes Brianna Freestone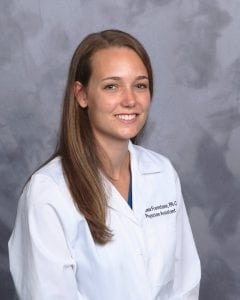 Brianna Freestone, PA, has joined Saratoga Cardiology Associates, a practice of St. Peter's Health Partners Medical Associates.
A board-certified physician assistant, Freestone practices cardiology medicine. Her professional interests include promoting patient education and increasing access to care for medically underserved populations.
Freestone received her master's degree from the Arcadia University Physician Assistant Program, located in Newark, Delaware. She earned her bachelor's degree from Marist College in Poughkeepsie, New York.
Saratoga Cardiology Associates offers a vast range of services including ultrasonography, pacemaker insertion, peripheral interventions, venous laser ablations, and nuclear cardiology.
The practice is accepting new patients at its office, located at 6 Care Lane in Saratoga Springs. For more information, or to make an appointment, call 518-587-7625.
St. Peter's Health Partners Medical Associates, with more than 350 physicians and advanced practitioners in more than 80 locations, is affiliated with St. Peter's Health Partners – the region's largest and most comprehensive not-for-profit network of high-quality, advanced medical care, primary care, rehabilitation, and senior services.