SPHP and the Regional Food Bank Launch Senior Food Farmacy Program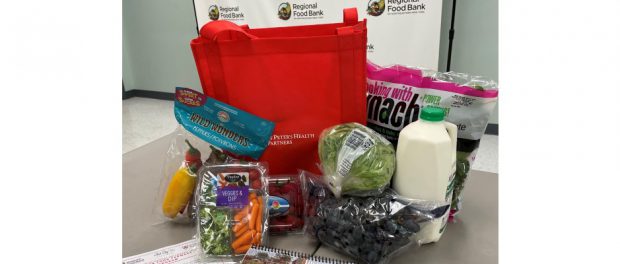 St. Peter's Health Partners (SPHP) and the Regional Food Bank have teamed up to kick off the Senior Food Farmacy Program. The pilot program will run for 12 weeks and will provide an extra delivery of a variety of fresh fruits, vegetables, and low-fat dairy items two times a month to participants at the Ohav Shalom Apartments in Albany.
In addition to receiving fresh produce and low-fat dairy items, participants are provided health and nutrition education packets by SPHP, as well as an optional online program created by the Just Say Yes to Fruits and Vegetables Nutrition Educator. The online educator features recipe demonstrations and other fun food and nutritional information.
The Senior Food Farmacy Program is an extension of the SPHP Food Farmacy Program, aimed at increasing access to healthy foods among food insecure populations, as well as providing information on nutrition education and disease management to improve overall health outcomes. The SPHP Food Farmacy Program is funded by the Mother Cabrini Health Foundation.