SPHP Occupational Therapist's New Book Featured in New York Times
A new book by Lynda Shrager, OTR, MSW, CAPS, an occupational therapist with the Eddy Visiting Nurse and Rehab Association, part of the St. Peter's Health Partners (SPHP) Continuing Care division, was featured in the May 21, 2018, New York Times article, "How to Age Well and Stay in Your Home."
Shrager's book, "Age in Place: A Guide to Modifying, Organizing, and Decluttering Mom and Dad's Home," is a comprehensive guide designed to help make seniors' homes safer and easier to navigate. It takes the reader through an aging person's dwelling room-by-room, identifying potential risks and offering solutions.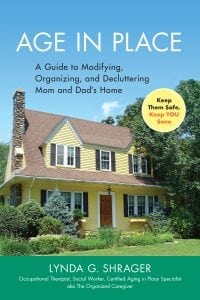 An occupational therapist for the last 37 years, Shrager has worked extensively with seniors in their homes. She understands what a challenging experience the aging process can be, especially for caregivers of independent loved ones. Many seniors don't want to leave their homes, she said, while others cannot afford to. For their caregivers, figuring out how best to house them can be overwhelming. Shrager makes it clear that staying in the home is possible, but families need to recognize and address potential safety issues sooner rather than later.
"The trick to all of this is that you have to make a plan ahead of time," Shrager said. "Be proactive. Don't wait until the fall occurs. Don't wait until the crisis happens. Get out your inner Sherlock Holmes. Hang out with your parents in their house. Note potential problems. Point out specific concerns, then offer up a solution."
Aging comes with numerous challenges, not just for the individual, but also for their caregivers. In addition offering room-by-room advice, this guide simplifies decisions for families.
"I truly feel the successful families I see are a team," Shrager said. "They organize themselves to provide the right care for their loved one."
In the coming decades, more families than ever before will be faced with the question of how to house their aging loved ones. The U.S. Census Bureau expects the number of Americans aged 65 and older to outnumber children by 2035, for the first time in U.S. history. Shrager acknowledged the tough choices ahead: "The bottom line is we have to respect our parents and give them the right to make these decisions."
"Age in Place: A Guide to Modifying, Organizing, and Decluttering Mom and Dad's Home" is Lynda Shrager's second book. She is also the author of "Otherwise Healthy – A Planner to Focus Your Thoughts on Organizing Life after Being Diagnosed with Breast Cancer." Her newspaper column, "Mom's Rx," appeared in numerous newspapers across the country, including the Times Union. Shrager is also a featured columnist for Everyday Health, a leading online consumer health web site.