LiveSmart: Include Safety in Your Holiday Preparations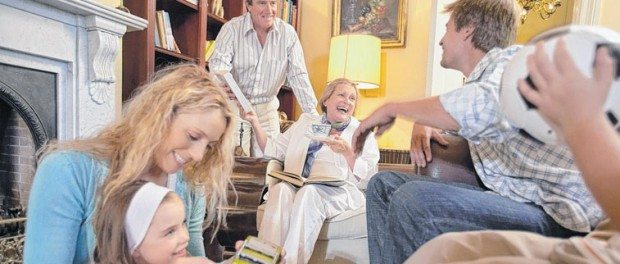 [This piece was written by Lisa Lemery, MS, OTR/L, director of rehab services for the Eddy Visiting Nurse Association.]
It's that time of year again, where we invite our loved ones over to celebrate the holidays, but the happy celebration can lead to fond memories, or it can also be an accident waiting to happen. A change in the routine or surroundings, especially for an older loved one, can lead to a potentially dangerous fall or mishap.
An estimated 30 to 40 percent of seniors who live at home fall every year. Because most falls happen around the home, it's important to remove hazards and take other steps to prevent any mishaps. At least one-fifth of those who fall suffer serious injuries, including head trauma and hip fractures. People over the age of 80 are most vulnerable.
Some sensible precautions include:
Remove or tape down throw rugs and clear pathways
Rearrange furniture and electrical cords to keep them out of the way
Keep the house well-lit, including stairways, porches and outside walkways
Use nightlights, if needed
Make sure stairways have sturdy handrails
Keep your pets out of the way or train them not to get underfoot
The same goes for young children; remind them to be aware of their surroundings and not to run in high-traffic areas
Use non-skid mats in the bathroom, and shower chairs or bath benches when necessary
If a senior individual mentions they feel weak or looks unsteady, offer assistance to stand or walk
Be sure there is adequate space for elders to utilize their walking devices when they are visiting your home
The Eddy Visiting Nurse Association (EVNA) provides comprehensive health care services to help individuals remain independent and in their own homes. They provide patients with access to visiting nurses; physical, occupational and speech therapists; certified home health aides, and personal care aides; medical social workers; and nutritionists.
EVNA's specialty nursing programs include wound care, palliative care, home infusion therapy and care for individuals with HIV/AIDS. The EVNA is proud to offer anodyne therapy for the treatment of peripheral neuropathy, vital stimulation for treatment of dysphagia, as well as state-of-the-art telehomecare technology.
For more information, please call the Eddy Visiting Nurse Association at (518) 274-6200.