SPHP Offering Free Mammograms for Employees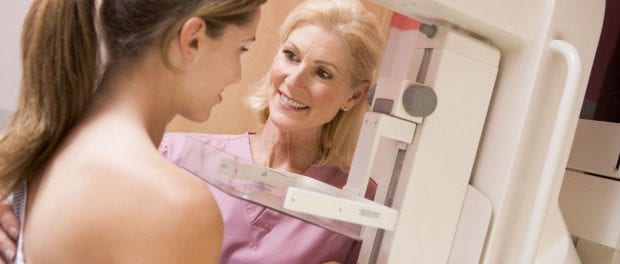 [This piece was written by Anne Lawton, RN, community outreach nurse, St. Peter's Health Partners.]
Breast cancer is the most commonly diagnosed cancer in women, and the second most common cause of female cancer deaths in New York state. With early detection, breast cancer is curable, yet many women don't get screened, including a large number of our own employees.
The American College of Radiology recommends women at average risk for breast cancer undergo an annual mammogram starting at age 40. However, data provided by the St. Peter's Health Partners (SPHP) insurance carrier finds that only 39-percent of SPHP staff had their annual mammogram in 2015.  That is dramatically lower than the 2015 New York state average of 79-percent.
In response to such low screening numbers, SPHP started the "Procrastination is Cancer's Breast Friend" Employee Mammogram Program. Launched in February 2017, the goals of the program were to increase staff mammography rates, decrease late stage breast cancers, and break down the barriers to screening.
To date, we have screened 175 women and found two early stage breast cancers. Through surveys taken at the events, we have learned what has caused the delay in getting an annual mammogram. The two top reasons given: lack of time and not having an ongoing relationship with a primary care provider (PCP) necessary to obtain a prescription for a mammogram. That correlates with data from the New York State Department of Health, which reported in 2017 that only 50-percent of women without a PCP got an annual mammogram. Other reasons given were fear, procrastination, confusing guidelines, and cost.
The 2018 data obtained from our insurance carrier shows that 49-percent of our female employees got their annual mammogram, representing a 10-percent increase. While the trend is going in the right direction, we still have 50-percent of our staff not getting their annual mammograms. As a result, they are at risk for breast cancers found at a later stage with a worse outcome.
At SPHP, we offer employee screening days twice a year. The next two screening days are:
Wednesday, September 25
11 a.m. – 4 p.m.
 St. Peter's Hospital Breast Center
317 S. Manning Blvd., Suite 305
Albany, N.Y.
Thursday, October 3
St. Peter's Breast Center 
10:30 a.m. – 4 p.m.
Samaritan Hospital – St. Mary's Campus
1300 Massachusetts Ave.
Troy, N.Y.
The screenings are free and open to any female employee or spouse over the age of 40. A prescription from your physician is required. Those who are uninsured are encouraged to attend. As an added feature, this year Massage Envy will be providing complimentary mini massages and hand exfoliation for attendees. Coupons will also be available for future spa services.
Appointments are necessary. To make one in Albany, call 518-525-6416. To make an appointment in Troy, call 518-268-5353. If the dates offered do not work for your schedule, please call and staff will work to find another suitable date. For more information on breast health and mammography at SPHP, please click here.