Spectrum News: A "Long Journey" for Nurses in St. Peter's COVID-19 Unit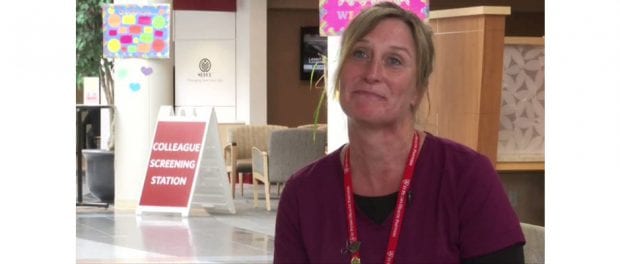 Natasha Delehanty, RN, nurse manager for 6 McAuley at St. Peter's Hospital, was interviewed by Spectrum News for its spotlight on local nurses for Nurses Week. Delehanty discussed the impact COVID-19 has had on her and her colleagues.
From the story:
"We do say it's indescribable every day," Delehanty said. "It's nothing like we were ever prepared for in nursing."

That says a lot, since Delehanty's journey with St. Peter's began a while ago. She's worked there for 25 years. She's the manager of St. Peter Hospital's COVID-19 wing. So far, her youngest COVID patient has been 22 years old; her oldest, in their 90s.

"It's emotional. A lot of emotion tied to all of this," she said.

That's why signs of support line the walls inside St. Peter's. It's a literal road map through the hospital, telling nurses to keep going.

"There's sadness in the day, quite a bit of sadness," Delehanty said. "There's fear in the day, but there's also a lot of exciting times in the day, where we get to see patients go home, and we're celebrating and clapping."
Click here to watch Spectrum's report.