St. Peter's Hospital Honors Exceptional Nurse Nichole Berkery with DAISY Award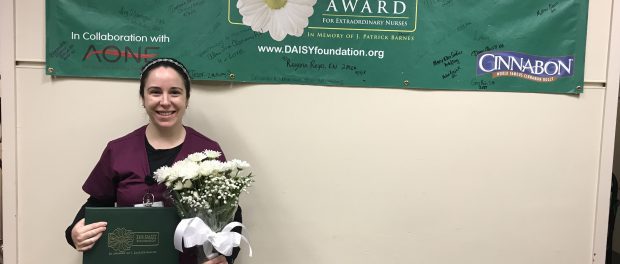 On April 16, the Recruitment and Retention Nursing Council at St. Peter's Hospital proudly hosted its quarterly DAISY Award Ceremony to honor the outstanding efforts of its nurses. Congratulations to DAISY Award winner, Nichole Berkery, RN, who works in cardiac surgery, and to the more than 60 nominees — the largest group of nurses ever honored at St. Peter's Hospital.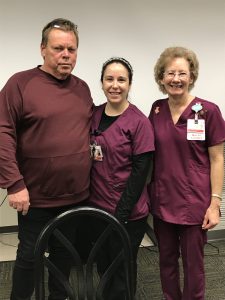 Berkery was nominated by one of her colleagues, Marilyn Laparl, RN, who recently underwent cardiac surgery. Laparl attended the ceremony, and thanked Berkery for her extraordinary care.
"Nichole always went out of her way to be helpful," Laparl said. "Her presence, knowledge, compassion, and calming reassurance made the scary experience more tolerable."
Berkery has been a nurse for seven years. This is her second recognition in just the past month. In March, she received an honorable mention at the 2019 Capital Region Heart Ball.
"I'm so blown away," Berkery said upon receiving the award. "It really confirms what I've been doing all these years. I don't do this for the recognition. I do it for the patients."
DAISY is an acronym for Disease Attacking the Immune System. The family of Patrick Barnes, who died at age 33 of complications from Idiopathic Thrombocytopenic Purpura (ITP), created the DAISY Award to honor his memory and recognize the healing work of the nurses who cared for him and who continue to care for patients everywhere. The DAISY Award has been adopted by health care facilities across the United States, and is now part of the culture of St. Peter's Hospital.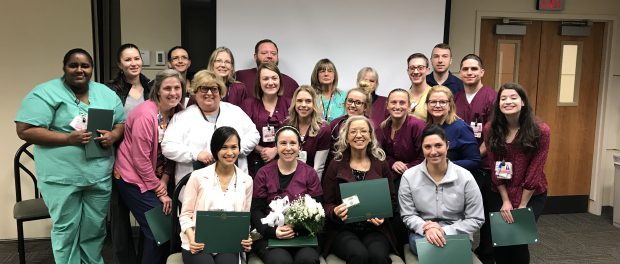 "Congratulations to Nichole and all of our nurse nominees on the presentation of this DAISY Award," said Celeste DesChamps, RN, MS, NEA-BC, interim chief nursing officer at St. Peter's Hospital. "Nichole exemplifies the core values of St. Peter's Hospital, providing exceptional, compassionate care to our patients. The fact that this is the largest group of nominees also speaks to the family of extraordinarily skilled, hard-working nurses who have dedicated themselves to providing stellar care to the patients of St. Peter's Hospital and to their families."
St. Peter's Hospital is one of more than 2,000 health care facilities across the world, committed to honoring nurses with the DAISY Award.