Sunnyview Rehabilitation Hospital Receives Generous Donations for Pediatric Project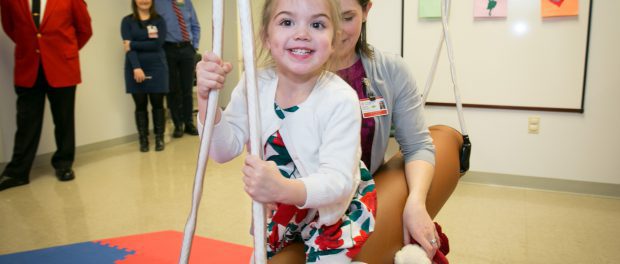 Sunnyview Rehabilitation Hospital recently received donations from several generous groups in the community — the Electric City Detachment Marine Corps League, the Schenectady Fire Department Station 1, Stewart's, and Radio 810-WGY.
Collectively, the groups donated about $8,000 to benefit the hospital's pediatric project. All donations were directed specifically to help support the purchase of much-needed pediatric therapy equipment, including a ceiling swing, a sand and water table, obstacle course equipment, crash mats, high density foam rebound mats, three-step foam stairs, and cubbies; and a therapy playground with a rock climbing wall, monkey bars, and a slide.
Marine Corp veterans dressed in uniform personally visited the hospital, along with members of the Schenectady Fire Department who brought Santa along in the fire truck to meet with all the good little girls and boys.
A big thanks to all the organizations which donated funds to help support the worthy project!