Team Eddy Makes Strong Showing at Walk to End Alzheimer's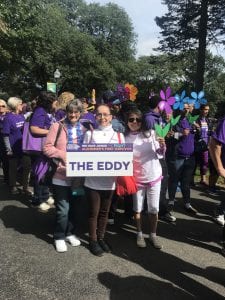 On September 22, The Eddy, an affiliate of St. Peter's Health Partners sponsored and participated in the Alzheimer's Association of Northeastern NY's annual Walk to End Alzheimer's.
Team Eddy, comprised of 38 SPHP colleagues and friends, raised a total of $10,684, making them the third highest fundraising team for the event.  Donations are accepted through December 31. Please click here to donate. The walk has raised a total of $267,009 across 185 teams and 1,365 participants.
The Eddy serves as a community partner with the Alzheimer's Association of Northeastern NY and the organizations work together year-round to provide a wide range of services to those with Alzheimer's and other dementias, as well as their families and caregivers.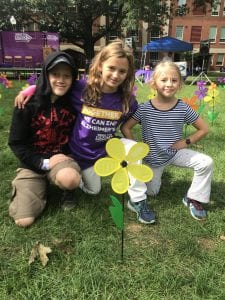 The Eddy was a proud to sponsor The Promise Garden for the fifth year. The Promise Garden is an important part of the Walk to End Alzheimer's, both in the opening ceremony and the Walk itself. Walkers are given a flower that indicates their connection to Alzheimer's disease – whether they have Alzheimer's or dementia, have lost a loved one to the disease, are a caregiver for someone with the disease, or support the goal of a world without Alzheimer's. The Promise Garden allows participants to raise flowers representing a promise to remember, honor, care, and fight for those living with Alzheimer's disease and other dementia.